Julie Meier Wright to Retire From Economic Development Corporation
Wednesday, January 5, 2011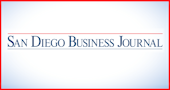 Julie Meier Wright is leaving her job as president and CEO of the San Diego Regional Economic Development Corporation effective June 30, the organization announced Jan. 5.
Wright, who worked for former Gov. Pete Wilson as the secretary of trade and commerce, has been in the position since August 1997. Although she's retiring, she will continue working for the EDC as a consultant for the remainder of the year.
EDC Chairman Debbie Reed said the organization has undertaken a national search for a new CEO who should be chosen by the time Wright retires.
"Julie has done a spectacular job leading what is considered one of the best economic development organizations in the country," Reed said.
Wright was credited with transforming the EDC from one public contract to a private sector driven organization that has a much greater impact on the region. Among her key achievements were playing a pivotal role in the passage of the half cent sales tax for transportation projects called "TransNet," and aiding in the retention and expansion of the military presence in San Diego.
EDC, a nonprofit entity, receives funding from both public and private sources, and it is engaged in business attraction and retention for the region.
— Mike Allen