HOSPITALITY: OUTLOOK UPBEAT FOR 3-YEAR REBOUND FOLLOWING DISASTROUS 2009
Tourism Will Likely Continue on Its Long Road to Recovery
Monday, January 3, 2011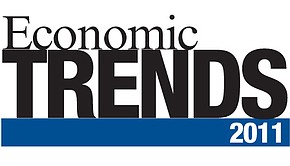 San Diego County tourism and hospitality leaders say 2011 will likely play out as the second in a three-year story of recovery — which began in 2010 and will likely extend through the end of 2012 — as local visitor-oriented sectors make back sales lost in the wreckage of the Great Recession.
"We're getting more people talking to us than just six months ago about holding conventions and meetings," said Joseph Terzi, president and chief executive officer of the San Diego Convention & Visitors Bureau. "It's not roaring back, but things are improving."
Barring a major economic setback that curtails recreational and corporate travel, experts predict the region should be able to rebound in the next two years from what was a horrible 2009 for hotels and tourism. It could then return to a growth mode starting in 2013.
For instance, a recent forecast conducted for the convention bureau by Pennsylvania-based consulting firm Tourism Economics projected that local visitor spending, which fell 12.1 percent in 2009, would rise 3.2 percent in 2010, followed by 4.7 percent growth in both 2011 and 2012.
In December, Atlanta-based Colliers International PKF Hospitality Research, a division of PKF Consulting Corp., forecast that the average hotel in the San Diego metro area will post a 5.8 percent increase in its daily room rate during 2011. The firm says that would mark the first time since 2008 that hoteliers were able to raise prices.
"The problem with 2008 and 2009 was that there was a much smaller pie — there was less travel and fewer business meetings because companies were cutting back," said Jim Durbin, general manager of the San Diego Marriott Gaslamp Quarter hotel. "Next year, hopefully, the pie will be getting bigger."
Durbin, who is also president of the San Diego County Hotel-Motel Association, said the current climate remains heavily influenced by competitive discounting to fill rooms, though he expects more of an equilibrium of supply and demand to kick in by the end of 2011. But he doesn't expect the county's pre-recession peak levels of hotel business to return until 2013.
Occupancy Rates Climb
That's the year in which Robert Rauch, president of San Diego-based hospitality consulting firm R.A. Rauch & Associates Inc., predicts local hotel occupancy rates will climb past 70 percent, to where they were prior to the recession.
For 2011, with no significant new hotel construction under way, Rauch projects the overall local occupancy will climb from 66 percent to 69 percent. He predicts the average daily room rate will rise from $121 to $129.
Rauch, who also operates local hotels under the Hilton banner, said small groups in 2010 continued to cut back on meetings, while larger organizations and corporations are aggressively seeking concessions among competing hotels, such as free meals and transportation shuttles. This "new normal" is likely to carry well into 2011, as San Diego also competes with other destination cities.
"We're going to have to fight like hell for that business," Rauch said.
Jan Freitag, vice president of global development for Tennessee-based Smith Travel Research Inc., said discounting played a major role in San Diego hotel performance during 2010, noting that while occupancy rose 5.4 percent, the average daily rate dropped 3.2 percent.
Revenue Expected to Rise
For 2011, Smith Travel expects a slight shift in momentum in favor of hotels as prices rise. Revenue per available room is likely to rise slightly, but likely no more than 5 percent.
Freitag said room rate increases will become more sustainable as the economy improves and consumer travel rebounds in the coming year.
But an improving climate won't necessarily solve the debt problems faced by some local hotel operators who went into the recession overleveraged.
Alan Reay, president of hotel consulting and brokerage firm Atlas Hospitality Group in Irvine, said interest rates will be a key factor to watch in 2011. If they head up, as some have predicted, the situation could increase debt burdens for troubled operators and accelerate the pace of foreclosures.
According to Atlas Hospitality, San Diego County in 2010 led most other California counties in hotel property defaults and foreclosures. A third-quarter report, issued by the firm in October, noted that the county had 13 hotels that had been foreclosed on by their lenders and 41 properties in some stage of default.
If interest rates remain stable, Reay said the pace of defaults should slow down in 2011, as operators see revenues and property values rise, making them more attractive to buyers if they need to sell.
"Hotels overall are still in a very fragile state right now," Reay said. "But hoteliers are less frightened about the economy and aren't in as much pressure to do the feverish discounting."
Corporate Activity Picks Up
The mood shift is being spurred in part by corporate bookings at local hotels, which have been picking up in recent months.
Activity at the San Diego Convention Center has also been recovering in the past year, a trend expected to carry into 2011.
Steven Johnson, spokesman for the San Diego Convention Center Corp., which runs the facility, said 72 conventions are booked at the center for 2011, up from 63 in 2010.
"We're optimistic about what we're hearing in the marketplace," Johnson said, noting the convention center continues to get steady business tied to relatively healthy sectors of the national economy, such as health care.
In early 2011, convention center officials will be finalizing financing plans for a proposed $700 million, 400,000-square-foot expansion, with completion expected in 2015.
In June, San Diego will see the return of direct daily flights between London and San Diego International Airport, when British Airways restores service last seen in 2003.
Consultant Rauch said the new service has implications for local hotels as well as the rest of the tourism industry.
"It will be important to have those flights for San Diego to be thought of as a destination that Europeans want to travel to," he said.