ECONOMY: REGION GETTING STRONGER SINCE GREAT RECESSION
Brighter Outlook
Monday, January 3, 2011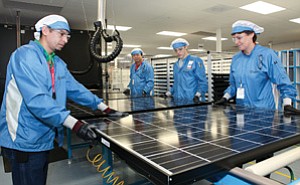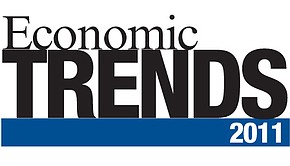 MANUFACTURING: Employment Declines, But Clean Energy Creates Jobs
By Mike Allen
As it has for many years, San Diego's manufacturing base shed jobs last year. However, there were some pockets of growth sprouting.
The region has made a name for itself as a center for solar panel production in recent years, with several major companies launching production lines.
In June, Kyocera Solar, a unit of Japan-based Kyocera Group, began producing solar panels, hiring about 70 workers for a three-shift cycle at its Kearny Mesa plant for a planned level of 30 megawatts of power during the year.
Tom Dyer, Kyocera Solar senior vice president, says the decision to make panels locally was driven by the fact that the fastest-growing market for solar is California, and by a requirement for certain public works projects funded from federal stimulus money to source materials in the United States.
"California remains the largest user of solar products in the country, and makes up about 65-70 percent of the total U.S. market," Dyer said.
At full capacity, the local plant will make more than 130,000 solar modules annually, he says.
Solar Energy Hub
Kyocera, which makes its solar panels at four other plants around the world, is one of five larger solar manufacturers to set up operations in San Diego in recent years. The others are Concentrix Solar, Energy Innovations Inc., Siliken Renewable Energy, and Vaillant Solar Systems Inc.
Holly Lepre, executive vice president of CleanTech San Diego, says most new jobs being created in the clean energy space were by companies involved in solar and wind energy. The nonprofit advocacy group counts 750 businesses engaged in some type of green industry locally, including some 200 companies in solar energy space.
"There are challenges to doing business in California, but it also represents one of the world's largest markets," Lepre said.
A study by the California Employment Development Department estimated that there are 37,000 jobs in the local green industry, third most of any region in the state.
Labor-Intensive Work Departs
Kelly Cunningham, an economist with National University System Institute for Policy Research, says that while there will be some job gains from clean-tech companies, the nature of the manufacturing processes means any labor-intensive production will likely be done elsewhere, not in higher cost regions like San Diego.
He says the region still has a nice core of value-added type of manufacturing, the kind that can't be done in Asia. He cites companies such as Sapphire Energy Inc., which is developing processes to convert algae to biodiesel fuel, and ViaSat Inc., which makes satellite communications equipment.
The latter company is producing its devices for both government and commercial customers, and has some 2,000 employees worldwide, about half of them working locally.
On the other hand, formerly robust manufacturing segments such as the golf industry have been moving pieces to lower cost countries for most of the past decade, says Michele Nash-Hoff, an independent manufacturing services representative who tracks the ongoing decline of local manufacturing.
According to the latest state report, released Dec. 17, San Diego County lost 1,900 manufacturing jobs in a 12-month span ending in November.
Although the numbers of lost jobs aren't near the devastating levels that were seen in the mid-1990s recession, the losses have been continual, and affect all types of manufacturers, not just defense and aerospace, which was the case then.
"It's really been across the board in the last 10 years," said Nash-Hoff, president of ElectroFab Sales. "There have been a lot of small companies that have shrunk by as much as 50 percent, and I've run across companies that have gone from 50 to five people."
She cites a wholesale relocation of golf club assembly jobs at several North County manufacturers in recent years. In July, Callaway Golf Co. announced that it was moving its golf club assembly operations to Monterrey, Mexico, as well as contracting out for its distribution of its products. While the company didn't disclose how many jobs would be affected from the restructuring, about half of its 2,300 employees are based in Carlsbad.
Vital Sector
The importance of retaining as much of the local manufacturing base goes to the multiplier effect associated with such jobs which usually pay 25 percent to 50 percent above the average earnings for all jobs, and create at least two to three other jobs, Nash-Hoff says.
In a bit of man bites dog news last month, a local manufacturer said it was moving some of its production back to the U.S. from Tijuana. McCain Inc. leased a new 100,000-square-foot building about a mile from its headquarters in Vista to produce street traffic and control equipment that had been made in Mexico.
The privately held firm, which has about 430 employees, including 120 in Vista, cannot qualify as a contractor for federal stimulus-funded public infrastructure projects unless the products are made in the U.S.
Once the new plant is fitted and automated equipment installed, the company plans to hire 50 to 100 people to work on metal fabrication, assembly injection molding, final assembly and testing of the traffic equipment.
"We are definitely swimming upstream with this move, but private businesses need to step up to the plate and prove that with the right equipment," said founder and Chief Executive Officer Jeffrey McCain, "we can still manufacture products in the U.S. and be competitive."
Are we there yet?
Our desired economic destination is a nice place with low unemployment, an abundance of jobs, an agreeable tax structure, and a good lending climate...