MANUFACTURING: PAULSON INCREASES OVERSEAS SALES; NEW MACHINES IMPROVE PRODUCTIVITY
Manufacturer: Exporting a Key to Recovery
Monday, February 28, 2011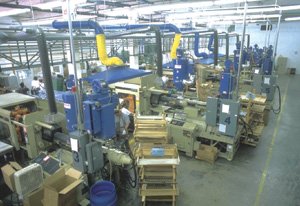 PAULSON MANUFACTURING CORP.
President and CEO: Roy Paulson.
Revenue: $13 million in 2010.
No. of local employees: 140.
Investors: Family-owned.
Headquarters: Temecula.
Year founded: 1947.
Company description: Maker of protective face shields, goggles and related products for law enforcement and industrial and trade workers, such as electricians.
Roy Paulson has a message for the region's manufacturers: If you're not growing, you're shrinking.
Paulson is president and chief executive officer of Paulson Manufacturing Corp., which makes goggles, face shields and related equipment for police and firefighters, as well as electrical and steel workers.
His products have a very high profile in the marketplace. The heroic firefighters in the World Trade Center towers Sept. 11, 2001, wore Paulson-made equipment, as did besieged police during the Greek riots last year.
Paulson has pushed revenues to $13 million a year for his family-owned business by increasing sales to markets in China and Brazil the past few years.
A quarter of his current sales come from exports, he says, and expects his exports to overtake domestic sales within the decade.
Based on this experience, Paulson is warning fellow manufacturers that they must improve productivity.
He says U.S. businesses have to grow more than 4 percent a year just to keep pace with normal growth in the economy and increasing productivity.
"If we stayed static on sales, we'd be dropping employment 3 percent to 5 percent each year," he said.
He says that's one reason why the jobless rate has remained chronically high, as much as 12.5 percent in California.
Lifting Restrictions
Paulson's been pushing for the lifting of export controls and other restrictive measures, because he believes that could help President Obama lift the economy from the recession.
"They can't see growth without exports," Paulson said. "We have to go to exporting to get out of this mess."
Paulson cites one recent study that claims 340,000 jobs could be added to the economy overnight if export rules were loosened.
Paulson has been appointed to the President's Export Council, the primary business advisory group for the White House, and he's become a primary media source pushing the idea of exporting to overcome the sluggish U.S. economy.
Big Benefits for Small Biz
Bella Heule, president and CEO of World Trade Center San Diego, agrees that exporting can help small businesses survive.
"The opportunities are amazing," said Heule, whose nonprofit provides international services to expand trade for regional and worldwide clients.
She says one benefit is that export markets can be counter-cyclical to domestic markets.
"Foreign markets can make up for slow sales in the domestic market until the economy picks up again," she added.
She says 4,000 businesses in the region import or export, and those businesses account for 125,000 workers.
"California is still a recognized brand; we're still seen as being on the cutting edge," she said.
Paulson's father started the company in 1947 selling toy goggles, which were marketed for 35 cents on cereal boxes.
The younger Paulson now employs 140 full- and part-time workers, down from a high of 240 in 2007.
He's increased productivity in his plant by purchasing millions of dollars in new machinery and other equipment, which has allowed him to reduce his work force — operating with 100 fewer workers than in 2007.
Traveling to Washington in January, Paulson testified before a U.S. House of Representatives committee, encouraging the U.S. Congress to adopt free trade agreements with Colombia, Panama and South Korea.
He says these agreements could open new markets to U.S. companies.
Paulson's behind efforts to extend San Diego's foreign trade zone designation to southwest Riverside County. The designation would bring relief from taxes and regulations to companies that do exporting.
Learning to Sell Overseas
Sometimes a learning curve is involved with overseas sales, as in the case of selling to China, which doesn't have protective rules and regulations for workers, such as electricians.

So, Paulson adopted a different sales pitch.
"China has no rules and regulations like that," said Paulson. "But, the companies have invested in their workers; they are not easy to replace, so they want to protect those guys. They're impossible to replace."
"That took us a little time to figure out," he said.
Congcong Zheng, a professor at San Diego State University specializing in international business, says many other small, privately held concerns would do well to emulate Paulson.
She says one reason why Paulson has been so successful is that he has a product that's in demand.
"It's not a cultural product, it's a specialized product, and the demand for these are the same around the world," she said. "He's on the right track. He's showing how it can be done."
Tom York is a contributing editor for the San Diego Business Journal.