TELECOM: COX COMMUNICATIONS PLANS TO INTRODUCE CELL PHONE SERVICE TO THE SAN DIEGO MARKET IN MID-2011 OR '12
Cox's New Calling Card
Monday, February 28, 2011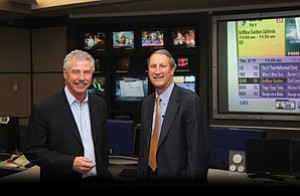 COX COMMUNICATIONS INC.
President and CEO: Pat Esser.
Revenue: $9.0 billion in 2009; $8.7 billion
in 2008.
No. of local employees: 2,000.
Investors: Cox Communications is a subsidiary of Cox Enterprises Inc., a privately held, $15 billion company with interests in print media and Internet businesses. Properties include AutoTrader.com Inc., Internet directory Kudzu.com, and Valpak Direct Marketing Systems Inc., which distributes coupons in the mail.
Headquarters: Atlanta.
Year founded: 1964, as Cox Broadcast Corp.
Company description: Cable television, Internet and telephone service provider.
Cable television executive Bill Geppert got a glimpse of the future, way back in the early 1980s.
Geppert, who describes his management style as "leadership by walking around," was a new boss wandering the property and chatting up employees.
He said that at one stop, a long-haired employee waved a coaxial cable in front of Geppert's face and, with great enthusiasm, declared, "This is magic!"
His co-worker wasn't crazy. He was talking about the amount of information that could conceivably go through the cable.
Cable had the capacity to push volumes of information over the "last mile" to a home. It's an important part of the trip; communications bottlenecks often occur in the last mile.
Now at age 55, Geppert is saying goodbye to the cable business. He is retiring from his job as senior vice president and general manager for Cox Communications Inc.'s San Diego market.
David Bialis, who ran the Cox market in Oklahoma City and most recently had an upper level job in Cox's Atlanta headquarters, takes the top San Diego job March 1.
Business Evolves
Geppert's career at Cox has taken him to New Orleans and the United Kingdom. He's had the San Diego job since 1995. As his career advanced, the cable business flowered. Cox expanded beyond television into high-speed Internet access, residential telephone service and business services. The core television business also changed with the advent of high-definition TV, digital video recorders and 3-D television.
Cox is not done evolving.
The privately held company — which trails Comcast and Time Warner Cable Inc. as the third-largest cable TV company in the nation, serving 6 million residences and businesses — plans to introduce cell phone service to the San Diego market soon, and will equip retail stores to serve cell phone accounts.
Cox already offers wireless service in Orange County; Omaha, Neb.; and Hampton Roads, Va. The Oklahoma City and Tulsa, Okla., markets get it next.
Bialis said timing for the San Diego wireless launch is not yet firm. It could be mid-2011 or 2012.
The new general manager acknowledged that Cox has plenty of competition for San Diego cell phone customers, but his employer is not walking into the market blind. "The company has done a lot of research," Bialis said.
Convincing Customers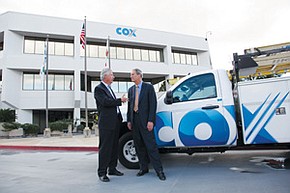 Mark Kersey, a cable industry analyst who runs Kersey Research Strategies in Rancho Bernardo, contrasted the cell phone launch with Cox's previous product launches. When Cox introduced broadband Internet, Kersey said, prospective customers did not have broadband, with its faster-than-normal speeds.
Today, however, Cox is introducing cell phone service to people who already own cell phones, and it will have to convince people to drop their current carriers.
In its initial cell phone markets, Cox is marketing its wireless plan under the advertising slogan "unbelievably fair." Value and the convenience of bundling services on a single bill are selling points, said Kersey. The marketing message will likely change as the technology evolves further.
Cox, incidentally, has long had the option of getting into the cell phone business. It had cell phone spectrum licenses several years ago, but eventually opted to sell them, Geppert said. The corporation had to purchase new spectrum licenses for its current foray into the cell phone market.
Looking further ahead, Kersey said Cox might follow the lead of Comcast, and increasingly send cable television content to devices such as smart phones and tablet computers.
Bialis, the new local general manager, spoke about the future in more general terms.
The 56-year-old Bialis said his college-age daughter uses the Internet in ways he does not, and that technology and consumer behavior are changing. Application developers will undoubtedly find more ways to use the "high-speed pipe" that is the Internet, he said.
Though he is coming from Oklahoma and Atlanta, Bialis is a Southern California native. At one time he worked for an old name in the San Diego technology world: Oak Industries in Rancho Bernardo.
Baseball and Politics
Geppert leaves Cox's San Diego market after more than 15 years. Cox credits its departing general manager with tripling its local employment and increasing its revenue fivefold, though it declined to give hard numbers. While in San Diego, Geppert rolled out exclusive San Diego Padres baseball telecasts on Cox, which are going into their 15th season. Competing pay TV services have wanted to offer Padres telecasts too, but Cox has managed to keep distribution limited.
The baseball games were the foundation for Cox Channel 4SD, which has expanded into other programming since.
Asked about future plans, Geppert said he wants to follow the "servant leadership" philosophy and go where he is needed.
Some have speculated Geppert will run for mayor.
In a mid-February interview in his office overlooking Petco Park, Geppert said he had no plans to run for office. And he couldn't resist poking fun at the political pundits. Leaning forward, he gave his interviewer a conspiratorial look out of the corner of his eye and, taking on the voice of the pundits, reacted to his own statement, saying, "Oh ho! He's running, all right!"
San Diego has been an easy place to get involved, Geppert said. Since his arrival in 1995, he has been part of numerous boards, including those of the San Diego Regional Economic Development Corp. and the University of San Diego. He sits on the board of the San Diego Foundation and is leading its Regional Vision Initiative, a study on how the community will evolve in coming decades.
"I'm a real believer in you've got to know where you're going," Geppert said, discussing the prospect of San Diego with a million more people. "Otherwise you could end up anywhere."