Real Estate Roundup
Monday, February 21, 2011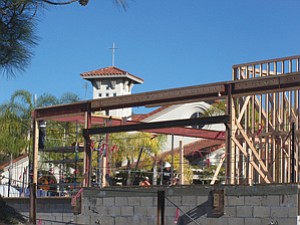 Steel Framing Under Way For Church's Parish Center
Steel framing is now under way and the topping slab has been poured for a new two-story Parish Center at St. Elizabeth Seton Catholic Church in Carlsbad. Designed by the worship facilities architecture specialists at domusstudio architecture, the 18,443-square-foot building is expected to be completed in July.
Since groundbreaking in June, site work has been ongoing. The project continues on schedule with framing of interior walls and exterior walls expected to start in the next few weeks.
C.W. Driver is the general contractor and the project is managed by Kruse Development Services Inc. on behalf of the Diocese of San Diego. Wayne Holtan is the partner in charge of the project designed by domusstudio architecture.
"Like many of our liturgical projects, the new Parish Center for St. Elizabeth Seton Catholic Church is designed as part of a master plan for the congregation, enhancing the existing sanctuary and creating a cohesive campus community," said Holtan. "Accommodating the growth of the church since their sanctuary was built in 1994, the Parish Center maximizes space and offers multipurpose functionality."
Located on approximately 5 acres near Alga Road and El Fuerte Street in Carlsbad, the church's new $8 million Parish Center will better accommodate the growing youth population, according to Holtan. The church serves approximately 1,000 students in religious education from kindergarten through 12th grade. The new Parish Hall will double the amount of available space for events and religious education classes at the church, meeting their growing needs and allowing the entire church community to gather more comfortably.
Industrial Building in Miramar Sold for $1.5M
Voit Real Estate Services Inc. has successfully directed the sale of a 12,300-square-foot industrial property for $1.5 million.
This single tenant industrial building was 100 percent leased at the time of sale. The buyer purchased the building as an investment property.
Randy LaChance and Jon Danton of Voit Real Estate Services' San Diego office represented the seller, Formula Industrial Holdings LLC. The buyer, Mossmer Family Trust, was represented by Mike Mossmer of Voit's San Diego office.
"By working together as a team on this transaction, and representing both the buyer and the seller, we were able to exceed our client's expectations and close escrow in just 10 days," said LaChance.
The property is located at 7750 Formula Place and is situated on a 0.61-acre lot in the Miramar submarket of San Diego between Interstate 805 and 15. 
Voit Real Estate Services is now a 10-office commercial real estate firm that, through its brokerage and asset services professionals working together, provides strategic property solutions scaled to clients' needs. Combining 38 years of expertise in property management, investment advisory, financial analysis, market research, asset management, tenant advisory and brokerage services, Voit provides clients with strategies that attempt to create value for their assets and portfolios.
Architect Completes Design For Bank's Branch Office
Smith Consulting Architects, a San Diego-based multidisciplined design firm, has completed the design and construction administration for the new 4,500-square-foot branch office of First Citizens Bank located within The Towers at Bressi Ranch at 6088 Innovation Way in Carlsbad.
First Citizens Bank previously served Carlsbad clients from a location on Marrow Road. The newly constructed branch office provides a central North County location that is easily accessible from Carlsbad, Encinitas, San Marcos and Vista.
The new First Citizens Bank branch office encompasses a lobby and reception area, teller areas, private offices, conference room, walk-up ATM and dedicated parking. The full-service branch offers customers a wide array of personal and business banking services.
Smith Consulting Architects is also designing First Citizens Bank branch offices in Encino and Glendale.
Mark Langan is vice president-in-charge for Smith Consulting Architects, with Brian Drache, serving as project architect. Ryan Cos. was the design-build general contractor for the Carlsbad branch.
Smith Consulting Architects also designed the shell buildings at The Towers at Bressi Ranch, which received Leadership in Energy and Environmental Design-CS Certification in 2009.