HOSPITALITY: OBSERVERS
Host Hotels to Buy $570M Bay Front Hyatt
Monday, February 21, 2011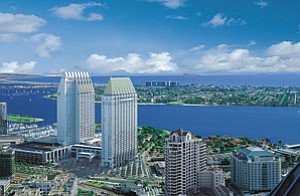 Observers say the planned $570 million acquisition of San Diego's largest hotel could signal a wave of similar investments in prime properties on the horizon, as investors come off the sidelines in response to a brightening hospitality climate.
"By mid-2011, we'll have a year's worth of data showing improved fundamentals, and that's what the investors are going to want to see," said Robert Rauch, president of locally based hospitality consulting firm R.A. Rauch and Associates Inc.
Maryland-based Host Hotels & Resorts Inc. announced Feb. 15 that it has agreed to purchase the entity that owns the 1,625-room Manchester Grand Hyatt on San Diego's downtown waterfront. The property is currently owned by a unit of Manchester Financial Group, led by local developer Douglas Manchester.
The transaction, expected to close in March, would consist of a combination of cash, including the repayment of existing loans, and the issuance by Host Hotels of common and preferred operating partnership units. It is subject to various closing conditions, including approval by the San Diego Unified Port District, which leases land to developers of waterfront properties.
Port district spokeswoman Marguerite Elicone said port commissioners are scheduled to review the proposed sale at their March 8 meeting.
Concurrent Hotel Del Deal
The Grand Hyatt deal was announced a week after a unit of global investment firm The Blackstone Group took a 60 percent stake in the famed Hotel del Coronado. As part of a debt restructuring, Blackstone will own the 757-room property with current owner Strategic Hotels & Resorts Inc. and operator KSL Resorts, which retain minority stakes.
Hospitality experts note that high-end luxury properties were generally hardest hit by the recession, as corporations cut back on travel, but have also been among the fastest to bounce back.
The San Diego County hotel market has generally been on an upswing since mid-2010. According to Smith Travel Research, in 2010 the region saw a 6.1 percent rise in occupancy over the prior year, to 66.7 percent; a 2.4 percent decline in the average daily room rate, to $121.93; and a 3.5 percent increase in revenue per available room, to $81.36.
In a recent forecast, Colliers International PKF Hospitality Research predicted the average hotel in the San Diego metro area will post a 5.8 percent increase in its daily room rate during 2011, marking the first time since 2008 that hoteliers have been able to raise prices.
Two prior proposed acquisitions of Manchester Grand Hyatt, by Hyatt Hotels Corp. of Chicago and Sunstone Hotel Investors Inc. of Aliso Viejo, were announced last year but ultimately were called off.
Rauch said conditions are forming for what could be a local and national string of hotel investments that could span the next three to four years, affecting hotels of various sizes. The market in 2011 is gradually transitioning from a buyer's market to a more balanced market.
Traditional lenders are historically among the last to come off the sidelines in an economic recovery, he said, but they will likely be financing purchases as 2011 progresses. They will join real estate investment trusts, especially large ones such as Host Hotels, which have already been active with purchases since late 2010.
Transactions Predicted
Larger REITs are generally under less pressure to get big or fast returns from individual investments. "Any return they get above 10 percent is gravy for them," Rauch said.
Smaller, well capitalized investment firms could also be encouraged if interest rates remain historically low — currently at around 6 percent for hotel acquisition financing.
"It could be a big year for transactions, though I don't think now is the time to sell unless you're looking to retire from the business or trade up to a larger property or some other type of exchange," said Rauch, who also operates two local franchised hotels under the Hilton banner.
According to hotel brokerage and consulting firm Atlas Hospitality Group, the Manchester Grand Hyatt deal would be the biggest hotel transaction in California since 2006, when Strategic Hotels purchased a 45 percent stake in Hotel del Coronado for $745 million.
"The demand for high-quality luxury hotels is very high right now," said Atlas President Alan Reay. "The market has rebounded significantly."
Select Group of Buyers
However, he said the pool of potential buyers for a trophy hotel like the Grand Hyatt remains "a very select group," with large players like Host Hotels and Blackstone in competition with foreign investment firms, particularly companies based in Asia, to acquire high-profile U.S. properties.
Reay said improving fundamentals could spread demand to smaller properties. By mid-2011, the local market should be seeing signs of recovery from conditions that made San Diego among the California counties most prone to hotel property loan defaults and foreclosures in 2010.
A spokeswoman for Manchester Financial Group said company representatives would not comment beyond a Feb. 15 statement, which said Manchester entered into the transaction with Host Hotels in order to "diversify its holdings."
Manchester's company also owns The Grand Del Mar resort in Carmel Valley. He also remains involved in a planned hotel and office development at the Navy Broadway Complex in downtown San Diego, which has been delayed for several years by legal, financing and related challenges tied to the economic downturn.
Grand Hyatt operators said no immediate changes are expected, even after the deal is approved. "Hyatt will manage the hotel going forward under its long-term agreement," said the hotel's marketing director, Kelly Commerford, referring to Hyatt Hotels Corp.