Maxwell Grows Revenue, Cuts Net Loss
Originally published February 18, 2011 at 9:53 a.m., updated February 18, 2011 at 10:11 a.m.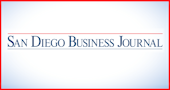 Maxwell Technologies Inc., a San Diego maker of energy storage devices called ultracapicitors, reported on Feb. 17 that it had fourth quarter revenue of $34.2 million, up 22 percent from the prior year's fourth quarter.
Net loss for the quarter was $2.4 million, compared with a net loss for the like quarter in 2009 of $10 million.
For the full year, Maxwell reported revenue of $121.9 million, up 20 percent from its revenue in 2009.
The full year net loss was $6 million compared with a net loss of $22.9 million for 2009.
CEO David Schramm said in addition to continued growth of sales in the wind energy and hybrid transit bus markets, the company also generated the first meaningful sales to the auto industry last year.
Last month, Maxwell took a hit in the form of a $14.4 million legal settlement with the Department of Justice and the Securities and Exchange Commission related to charges it bribed Chinese officials through a hired agent to win contracts from state-owned companies. The alleged bribes occurred from 2002 to 2009 and were made through Maxwell's Swiss subsidiary, which contracted with a Chinese agent, according to settlement documents.
The company said it paid $8 million in penalties to settle with DOJ, and $6.35 million to settle with SEC. The company has a three-year deferred prosecution agreement with both agencies, requiring it to report on its internal anti-bribery compliance program. If the company remains in compliance with the agreement, the charges will be dismissed with prejudice, Maxwell said.
In his forecast, Schramm said Maxwell's revenue this year should exceed that reported in 2010, and should continue to break an operating profit.
Traded on Nasdaq under MXWL, shares stood at $18.53 in midday trading Feb. 18, down more than 5 percent from the prior day's closing price of $19.55. Its 52-week range is $10.16 to $19.65.
— Mike Allen