Real Estate Roundup
Monday, February 14, 2011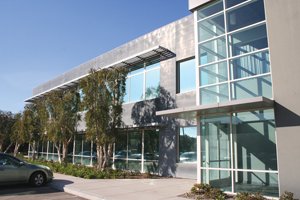 Kearny Mesa Building Sold in $4.1M Deal
The San Diego office of Cushman & Wakefield Inc. facilitated the close of a complex $4.1 million transaction that included the assumption of a $3.7 million commercial-backed security loan for a 17,792-square-foot Class A office building in the Kearny Mesa Spectrum area of San Diego. The buyer was Quake Global Inc.
"This transaction is indicative of the types of commercial sales we will be seeing many more of in coming months, in which existing CMBS loans are assumed in order to avoid significant prepayment penalties — in this particular case, 35 percent of the loan's value," said Deborah Hunkeler, a broker with Cushman & Wakefield who, along with Jay Arnett, navigated the sale's closing.
Built in 2001, the property at 4933 Paramount Drive in San Diego was sold in 2007 for $5.95 million to the Homer and Hallum Trust as a sale leaseback investment property.  However, due to the current state of the market, the property was re-marketed and sold to owner-user Quake Global. 
"Our efforts also included negotiating the early lease termination of two tenants," said Hunkeler. "The result was a win-win for the seller and buyer, the latter of which now owns a premier corporate headquarters facility in one of the county's most preferred submarkets."
Biotech Firm Establishes Local West Coast Office
Jones Lang LaSalle negotiated a 17,000-square-foot lease on behalf of Integrated DNA Technologies Inc. with BioMed Realty Trust Inc., on a 126-month lease at BioMed's 6828 Nancy Ridge Drive property in San Diego. The space will house new biotech firm Integrated DNA Technologies' West Coast operations. The lease is valued at more than $4 million.
Jones Lang LaSalle Managing Director Scot Ginsburg and Senior Vice President Brian Cooper represented Integrated DNA Technologies, while Executive Vice President Chad Urie and Associate Grant Shoneman, also of Jones Lang LaSalle, represented BioMed. 
Integrated DNA Technologies is a supplier of custom oligonucleotides and a developer of new biotechnologies. BioMed Realty Trust is a real estate investment trust that acquires, develops, owns and operates laboratory and office space throughout the core U.S. life science markets.
A.O. Reed Headquarters Wins EPA's Energy Star Award
The A.O. Reed & Co. corporate headquarters has earned the Environmental Protection Agency's prestigious Energy Star, the national symbol for superior energy efficiency and environmental protection. The building now rates in the top 25 percent of facilities nationwide.
"A.O. Reed & Co is pleased that its headquarters has received the EPA's Energy Star in recognition of our energy efficiency efforts," said Steve Andrade, A.O. Reed & Co. president and CEO. "As a nationally recognized leading mechanical and energy contractor in Southern California, we thought it was imperative to undergo a major retrofit prior to recommending our clients do the same. We retrofitted our HVAC systems, lighting systems, installed an energy management system, a cool roof, added 140kw photo-voltaic array to generate 67 percent of our electrical consumption, retrofitted our plumbing fixtures, and made a firm commitment to changing our culture while keeping our nearly 100-year-old traditions intact."
The Energy Star plaque follows the recent environmental recognition in which San Diego Gas & Electric Co. selected A.O. Reed & Co. as the 2010 Energy Showcase Award winners.
"Comprehensive energy savings solutions and leveraging SDG&E incentives is now part of their culture," said Hal Snyder, vice president of customer solutions for SDG&E, during the awards luncheon. "A.O. Reed & Co. walked the talk by investing in substantial sustainable energy saving retrofits to their own buildings."
Three-Year Lease Arranged At Carlsbad Business Park
Coldwell Banker Commercial Almar Group represented both the landlord and the tenant in a three-year lease agreement with Intravas Inc. for 11,571 square feet in an office building located at 5770 Armada Drive in the Carlsbad Ranch Business Park. This transaction represents one of the largest new office lease deals done in Carlsbad in the past 12 months.
Jim Karlovsky, a senior associate with CBC Almar Group, represented Intravas in the deal that was valued at $555,408. Karlovsky and Ron King, senior vice president/founding partner at CBC Almar Group, also represented the landlord, Buffini and Co., in the deal.
"A number of well-known companies are headquartered at the Carlsbad Ranch Business Park," said King. "This is a prime location that should contribute to the long-term success of Intravas Inc."
Tenants of the low-rise buildings along Armada Drive and Fleet Street include the National Association of Music Merchants, Jenny Craig and NRG West, a unit of NRG Energy Inc. The office park has easy access to Interstate 5 via Palomar Road and is adjacent to Legoland, a theme park constructed with Lego bricks.
City College Recognized For Sustainable Design
The new Career Technology Center at San Diego City College has been awarded Leadership in Energy and Environmental Design Gold certification for sustainable and green design by the U.S. Green Building Council. 
The USGBC is an organization that promotes sustainable, efficient, and healthy building design and operation. The Career Technology Center, which was completed in May, is the college district's seventh facility to be LEED certified and fifth to achieve a LEED Gold designation. 
"This is a great accomplishment for our district," said Dr. Constance Carroll, San Diego Community College District chancellor. "Not only have we provided a phenomenal new building in which people will train for in-demand jobs, but one that is environmentally excellent as well."
The Career Technology Center is City College's first facility to obtain the prestigious Gold certification. The campus' Learning Resource Center was the district's first LEED-certified project, certified LEED Silver in 2008.
KPMG Receives LEED Status for Green Interiors
The San Diego office of audit, tax and advisory firm KPMG LLP has been certified in Leadership in Energy and Environmental Design. The firm's San Diego office has achieved the U.S. Green Building Council's Silver LEED-CI certification for commercial interiors.
"Achieving the certification was the second step in a plan that began when we selected this LEED Gold building that was in line with KPMG's firmwide 'green' initiative to reduce its carbon footprint," said David Down, KPMG San Diego office managing partner.
KPMG's San Diego office has multiple systems in place to reduce water consumption, energy used to heat and cool, and electricity.
"Even the position of photocopiers is calibrated to use the least amount of energy," said Stephanie Renick, KPMG San Diego operations services manager. "And most of the construction waste was diverted from landfills for recycling."
Down said the office building's location also supports KPMG's green initiative.
"In the heart of the new La Jolla Commons financial district, we are close to public transportation, and we also provide bike lockers to offer alternative means of commuting," he said.
In 2009, KPMG signed a lease for approximately 28,710 square feet of office space in La Jolla Commons and relocated to the 13-story, 300,000-square-foot office tower in the University Towne Center area.
Designed by DMJM Architects, Hines' La Jolla Commons property was the first, high-rise multi-tenant office building in California to achieve Gold certification in the LEED program, sponsored by the national, nonprofit U.S. Green Building Council. It earned this certification for its first-class construction and state-of-the-art operating systems including a highly energy-efficient, exterior glass curtain wall system and a dual-water pipe system that reduces the use of fresh water by 87 percent. It is also the first project in San Diego to receive the "Designed to Earn the Energy Star" status under the Environmental Protection Agency's national Energy Star program for commercial buildings. 
Overall, the building scored in the 92nd percentile for energy efficiency, according to EPA Energy Star standards, equating to a 50 percent reduction in energy use and a 50 percent reduction in greenhouse gas emissions compared with an average office building.