DEFENSE: NAVY PROJECT MIGHT USHER IN NEW GENERATION OF UNMANNED COMBAT AIRCRAFT
Local Software Developers Help Experimental Plane Take Off
Monday, February 14, 2011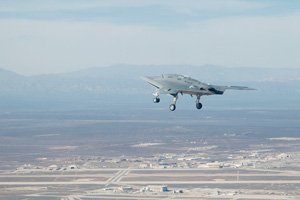 NORTHROP GRUMMAN
CEO: Wes Bush.
Revenue: $33.76 billion in 2009; $32.32 billion in 2008.
Net income/loss: $1.69 billion in net income in 2009; net loss of $1.26 billion in 2008.
No. of local employees: 4,685.
Headquarters: Los Angeles.
Year founded: 1939.
Stock symbol and exchange: NOC on the New York Stock Exchange.
Company description: Defense contractor.
Software writers in Rancho Bernardo played a pivotal role in getting a pilotless, experimental aircraft without a tail off the ground for the first time Feb...