HEALTH CARE: PPH'S $956M GREEN FACILITY IS EXPECTED TO OPEN IN 2012
Futuristic Hospital Project Gets Closer to Fruition in Escondido
Monday, February 7, 2011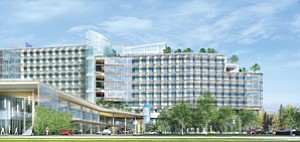 PALOMAR POMERADO HEALTH
CEO: Michael Covert.
Chairman of the board: Ted Kleiter.
Annual budget: $480 million operating budget.
No. of volunteers: 700.
Headquarters: Escondido.
Year founded: 1950.
Mission of organization: To heal, comfort and promote health in the communities that it serves.
Although completion is more than a year away, work on Palomar Medical Center West in Escondido has progressed to the point where David Tam, who oversees construction for the Palomar Pomerado Health district, can fully visualize the state-of-the-art hospital.
"The skin is on the building completely," said Tam, who also serves as chief administrative officer for Pomerado Hospital in Poway. "We have gardens, little atriums, on every floor to expose the patients to natural light. The green roof has been completely planted and the seedlings are starting to grow."
The steel-frame hospital is taking shape on 40 acres near the intersection of Interstate 15 and Highway 78, where it is centrally located to serve inland North County.
"The cost at this time is $956 million for everything: furniture, landscaping and equipment," Tam said. "We are at the point now that we don't have any more contracts to sign. This hospital has incorporated just about every advance in health care architecture and engineering all in one place."
The vegetation-covered roof atop the diagnostic and treatment wing will symbolize the health district's effort to create an environmentally friendly facility that incorporates the best design features. Officials say the project is the largest hospital now under construction in the U.S.
Redefining Patient Care
The hospital is a project of Palomar Pomerado Health, which operates hospitals in Escondido and Poway. The groundbreaking took place in 2007. Completion and occupancy is anticipated by late 2012. Supporters say the new facility will help redefine patient care in the U.S.
"We are in a new era of health care delivery," said Steven Escoboza, president and CEO of the Hospital Association of San Diego and Imperial Counties. "There is a lot more focus on quality and performance improvements."
The new hospital will make an important difference to the community, said Steve O'Kane, chief executive officer of the Council of Community Clinics in San Diego.
"I think this is a great opportunity," he said. "There is a real need for it. It is a state-of-the-art hospital and I am really pleased that we are going to be working for them."
It all comes down to doing what is best for the patients, said Lorie Shoemaker, chief nurse executive for Palomar Pomerado Health.
"We have designed this hospital with the utmost in patient safety in mind as well as working efficiently for our staff," she said. "Evidence-based design is along the same lines as evidence-based medicine. It actually helps patients heal faster, go home faster and feel better. If patients have access to natural light, nature and greenery, they actually require less medication."
Staff Has Input About Design
The hospital staff was consulted during the design phase, she said. "We had a group of staff members work on this project for over a year. It is the only hospital of its kind across the nation. There are hospitals that have incorporated pieces and parts."
The facility will help nurses work more efficiently, she added. "Nurses walk between five and seven miles a day in the typical hospital environment. We have put the nurse at the bedside with 80 percent of what she needs to take care of the patient. A supply cabinet is outside every room so a nurse no longer has to run to a central supply room."
When the hospital's first phase is complete, it will have 288 patient rooms, she said. There are plans to later add an additional 72. Each room will be standardized. The emergency department will open with 48 patient rooms and the ability to add 16 more as the need grows. There will be 12 operating rooms and a trauma center.
The hospital will have two towers, Shoemaker noted. "One is nine stories. That is the acute care side. An 11-story tower will be the critical care side. There is an ability to add a whole other nine-story tower."
The tallest tower will feature a helipad. Shoemaker describes the uncompleted hospital as "a legacy building." The goal is to be able to meet communty needs "for years and years to come."
Emmet Pierce is a freelance writer for the San Diego Business Journal.