BIOTECH: A HEALTHY DEMAND FOR SPACE SPURRED BY DRUG DISCOVERY EFFORTS
Life Sciences Sector a Rising Star for Real Estate Expansion
Monday, December 12, 2011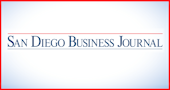 San Diego ranks seventh in the nation for real estate expansion by life-sciences companies, fueled by rising venture and government funding and the nation's highest per-capita concentration of Ph.D. degrees, according to a recent report by brokerage firm Jones Lang LaSalle.
Researchers ranked 16 emerging and established U.S. clusters on several criteria that are encouraging firms to seek out research and development space, including those focused on pharmaceuticals, biotechnology, medical device technology and biofuels.
While local property investment sales have cooled in the past year, JLL notes that San Diego's life-sciences cluster continues to be bolstered by several prominent medical research institutions. Thanks to ongoing investment in biopharmaceutical companies, the number of established and emerging businesses is growing, and mergers and acquisitions are expected to increase in 2012.
Tenants are currently shopping the local market for more than 1 million square feet of space, and nearly half of that is expected to result in new net absorption. No speculative construction of new buildings is currently under way, so leases at existing sites will come at a premium as demand rises.
"The demand for space is the healthiest it's been in four or five years," says Chad Urie, an executive vice president in JLL's San Diego office.
Much of it is being spurred by ramped-up drug discovery efforts, with pharmaceutical firms looking to refill their product pipelines as patents expire on older drugs.
Moving on to Bigger Space
Urie said life-sciences firms recently expanding locally have included biopharmaceutical firm Celgene Corp., which is in the process of taking its current presence in the University Towne Center submarket from 78,000 to 175,000 square feet.
According to a third-quarter report by the brokerage firm Cushman & Wakefield, other big moves this year have included Novartis Corp. and Verenium Corp. taking a total of more than 100,000 square feet at a Torrey Pines complex that formerly housed Merck & Co. Inc. Also, Dart NeuroScience LLC purchased a former Nokia building off Interstate 15, with plans to occupy 190,000 square feet in early 2013.
Earlier this year, Polaris Pharmaceuticals Inc. doubled its local presence, taking 11,000 square feet at UTC; and VantagePoint Labs LLC, a startup company formed by a large New York equity firm, leased more than 13,000 square feet in a former Dow Chemical Co. facility in Sorrento Mesa.
Cushman notes that San Diego County is the nation's third-largest biotech hub based on square footage, behind Boston and San Francisco. The San Diego vacancy rate for biotech lab space is at 9.6 percent, well below the region's general office vacancy rate.
JLL reports that the majority of local life-sciences deals this year were inked for spaces below 20,000 square feet, which speaks to San Diego's heavy concentration of incubator and startup companies.
At San Diego-based BioMed Realty Trust Inc., among the nation's largest holders of life sciences real estate, President and Chief Operating Officer Kent Griffin said space demand has been fueled by biotech companies' ability to expand despite a general tightening in venture capital availability. Small and medium-sized firms especially are finding alternatives to VC cash, including government grants and partnerships with other companies.
"San Diego is certainly one of our top markets for life sciences space," Griffin said, noting the firm's local portfolio totals 1.8 million square feet, of which approximately 92 percent is currently leased.
Good Recruiting Conditions
Proximity to research institutions in markets like Torrey Pines and UTC, as well as the local climate, are key to recruiting personnel in the competitive life-sciences industry.
"When a market has a reputation for having all those elements, it doesn't change overnight," Griffin said. "Quality of life is important when you are looking to develop that talent pool."
JLL's national rankings were based on factors including the percentage of the total workforce employed in the life-sciences field, the number of science and engineering graduate students, venture capital and National Institutes of Health, or NIH, funding, research and development spending, and the square footage of academic and research facilities.
Based on where regions stood at the end of the third quarter, San Diego placed third in the nation for venture funding (more than $560 million this year); fourth for R&D spending as a percentage of state GDP (4.3 percent); and sixth for NIH funding (more than $823 million).
With all criteria factored in, JLL's top six U.S. markets for real estate expansion were Boston, New York/New Jersey, San Francisco, Los Angeles, Washington, D.C., and Philadelphia.