First Homes Debuting at Mixed-Use Civita
Friday, December 9, 2011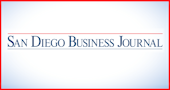 The first model homes at Civita, a mixed-use community where construction began earlier this year in Mission Valley, are scheduled to be open to the public on Dec. 10.
A Dec. 7 statement from the project's developer, San Diego-based Sudberry Properties, said the 230-acre community is expected to be built out in 10 to 15 years at a cost of approximately $2 billion. There are 500 homes and apartments currently under construction.
Located north of Friars Road, between Interstate 805 and Mission Center Road, the community will eventually have more than 4,700 homes and apartments, with nearly 1 million square feet of retail shops, offices and civic structures.
The project has been in planning for the past 10 years, and is being built on the site of a former gravel quarry. It will have sustainable elements including 60 acres of parks, trails and public spaces.
The statement said December marks the opening of sales in Civita's first neighborhood of attached homes, known as Origen, being built by Shea Homes. In January, leasing will begin at the project's first apartment community, Circa 37, also under construction.
Developers said the name Civita was derived from the Latin roots for "civic" and "vitality."
— Lou Hirsh