Qualcomm Forms Subsidiary, Fund to Pursue Mobile Health Solutions
Tuesday, December 6, 2011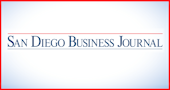 Qualcomm Inc. is putting more of its weight in the fast-growing wireless health space. The San Diego-based company on Dec. 5 said that it has formed a subsidiary, Qualcomm Life Inc., which will provide wireless connectivity services to the medical device industry, and that it has launched a $100 million fund to invest in emerging wireless health companies.
Qualcomm Life's first offering is the 2net Platform and Hub, which uses cloud-based networks to transfer, store, convert and display biometric data that's captured from patients' medical devices, such as wireless glucose monitors — allowing for doctors to remotely monitor health data.
The system will help "enable a sea change in health care, where we observe stressed medical systems burdened by a mounting prevalence of chronic disease," said Don Jones, vice president of global strategy and market development for Qualcomm Life.
Rick Valencia, vice president and general manager of Qualcomm Life, said the 2net system removes a technical burden for medical device manufacturers, who otherwise would be faced with the challenges of supporting wireless medical device data in the field. More than 40 medical device manufacturers, application developers, health care services companies and payors have either decided to integrate with or are considering the 2net system, Qualcomm said, in a statement.
"Qualcomm Life was founded, in part, to assist medical device manufacturers who approached Qualcomm for help when their own wireless connectivity attempts became untenable," Valencia said.
The 2net Platform and Hub are listed with the Food and Drug Administration as Medical Device Data Systems.
Meanwhile, Qualcomm is investing in wireless health companies through its new $100 million Qualcomm Life Fund, which will be managed by investment arm Qualcomm Ventures.
The fund already has invested in five wireless health companies, including San Diego-based Sotera Wireless. The others are Telcare, AliveCor, Cambridge Temperature Concepts and WorkSmart Labs.
— Kelly Quigley