HOSPITALITY: CHICK-FIL-A TAKES SELECTIVE APPROACH TO GRANTING FRANCHISES
Chicken and Charm a Winning Combination
Monday, August 29, 2011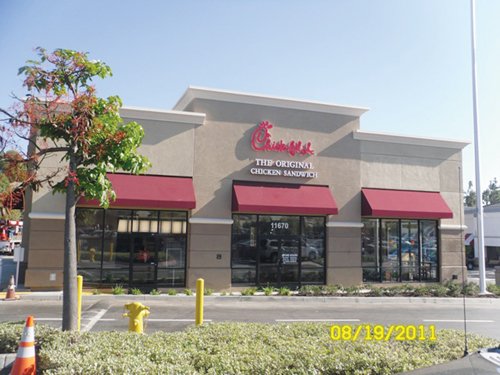 CHICK-FIL-A INC.
CEO: Truett Cathy.
Sales: $3.5 billion in 2010; $3.1 billion in 2009.
Local employees: Approximately 300.
Headquarters: Atlanta.
Year founded: 1967.
Company description: Operates more than 1,500 quick-service restaurants with a menu including chicken sandwiches.
Keys to success: Focus on friendly service; items made fresh on premises; operators are active in local communities.
With more than 1,500 U.S. restaurants, Atlanta-based Chick-fil-A Inc. has developed a large and loyal following for its chicken sandwiches, with throngs of aficionados camping out hours in advance of location debuts.
With that has come a wave of operators seeking to become franchisees. According to Brent Townsend, a senior business consultant with Chick-fil-A, the company opens about 70 franchised locations annually, yet receives about 20,000 franchise applications per year.
Among those recently making the cut is local franchisee Mike Weeks, who says he's anticipating an avid response when the growing company opens its sixth San Diego County Chick-fil-A on Sept. 1 at Carmel Mountain Plaza in San Diego. With a tailgate partylike atmosphere prevailing, the company in the past has given away $26,000 in free food coupons to the first 100 people in line — one free meal apiece for the next 52 weeks.
'Child' of the Sixties
The privately held Chick-fil-A was started in 1967 by Truett Cathy, who marked his 90th birthday earlier this year and remains its chairman and CEO. The franchised chain had more than $3.5 billion in 2010 sales and has reported year-over-year sales growth every year since its founding.
Townsend said Southern California has recently been a priority for expansion, especially as the company moves beyond mall locations to stand-alone eateries, with the next San Diego County restaurant likely to open next year in Encinitas.
The stand-alone locations employ on average around 50 people, although the Carmel Mountain restaurant will have about 65 full- and part-time workers.
Weeks, a Florida native who worked line positions at Chick-fil-A restaurants in high school and college, said the company takes pains to select franchisees who not only know the business, but who have the outgoing personalities needed to relate to regular customers — often on a first-name basis.
"There's a business aspect of it also, but we do make it a priority to get to know the people in the neighborhood and be out in the community at events," he said. Some locations, for instance, have held military appreciation days where service personnel and their families are treated to free meals.
According to the Chicago-based restaurant industry consulting firm Technomic Inc., Chick-fil-A competes in a quick-service category which includes 19 national and regional chains focused on chicken. It is second in sales to market leader KFC, which has more than 5,000 restaurants and posted 2010 sales of $4.7 billion, down 3.9 percent from 2009.
Chick-fil-A's 2010 sales were up 11.4 percent from the prior year. Technomic Executive Vice President Darren Tristano said the chicken purveyor has long been established in the Southeast and parts of the Midwest, and in recent years has been growing its presence in large urban markets including Chicago and Southern California.
Recipe for Success
Based on its sales history, Tristano said Chick-fil-A is on track to possibly surpass KFC in sales within the next three or four years. Chick-fil-A continues to build momentum through a combination of fresh, made to order items — including sandwiches, salads and side items — and an intensive focus on worker training to convey friendly, Southern-style hospitality at all locations.
That has garnered Chick-fil-A a degree of loyalty rivaling that of longtime Southern California fast-food darlings. "They've sort of become complementary to In-N-Out Burger," Tristano said of the local dynamic. "They've become to the chicken category what In-N-Out has been for burgers."
In addition to a stringent vetting process that favors community-minded franchisees and disallows "absentee owners," Townsend said Chick-fil-A has an investment in the success of each location. The company foots all of the initial real estate and equipment costs to open a location, with the franchisee paying one upfront fee of $5,000.
The franchisee also pays the operating costs once the restaurant is up and running, including payroll and utilities. The franchisee pays an amount to the company equivalent to 15 percent of total sales, with the franchisee and Chick-fil-A splitting profits fifty-fifty.
A big part of the arrangement that customers actually see dates back to the original priorities of founder Cathy: Chick-fil-A does not open for business on Sundays.
"It's to give the team members the choice of whether they want to go to church, or just spend time with their families, but overall it's just so they can relax and recharge," Townsend said. "People need to be re-energized, so they can come in fresh to start a new week on Monday."