ENERGY: SOLAR PANEL INSTALLER HAD TO PLEASE COASTAL COMMISSION
Salk Institute Puts $26M Into Electrical and Mechanical Upgrades
Monday, August 22, 2011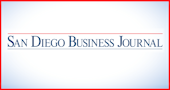 SALK INSTITUTE FOR BIOLOGICAL STUDIES
President: William R. Brody, M.D., Ph.D.
Chairman of the board: Irwin Jacobs.
Revenue, grants and other support: $122 million in 2010; $103 million in 2009.
No. of employees: More than 1,000, including 850-plus scientific staff.
Intellectual property: Research has led to 350 U.S. patents and more than 250 license agreements with pharmaceutical, biotechnology and reagent supply companies. In addition, 22 startup companies have been founded to develop institute technology.
Headquarters: La Jolla.
Year founded: 1963.
Mission of organization: To better understand the fundamental principles of biology and create groundbreaking discoveries that help explain human diseases and how they can be treated.
The iconic Salk Institute for Biological Studies in La Jolla has embarked on a sweeping $26 million energy retrofit project that includes covering virtually all of its rooftop space with more than 2,300 solar panels and replacing its original electrical and mechanical gear, which dated back to the early 1960s...