FINANCE: DEAL EXCLUDES CHIEF EXECUTIVE'S ROLE; IT'S WORTH NEARLY $9M
Embarcadero Bank Makes New Offer for Coronado First Bank
Monday, August 15, 2011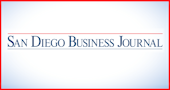 Embarcadero Bank is sweetening its offer to buy Coronado First Bank with $300,000 in cash, and acquiescing to a demand from certain shareholders to exclude Bruce Ives, CFB's chief executive, from a position in the new bank, according to a proxy released last week.
The additional cash means Embarcadero Bank is paying nearly $9 million for Coronado First, based on its second-quarter results. A special meeting of CFB's shareholders is scheduled for Aug. 23.

The bank merger, which was announced in March, appeared to be on the rocks when CFB's shareholders didn't approve an earlier offer of $6.70 per share for the bank, or an aggregate price of $9.3 million at a meeting in June. In response, top officials from Embarcadero and CFB met and renegotiated a new offer, said Maria Kunac, Embarcadero's chief executive officer.
In the revised offer, CFB shareholders will receive tangible book value as of Sept. 30 for each share they own, plus an aggregate $300,000, or 21 cents per share. Because CFB lost a net $767,000 for the first half of this year, its tangible book value declined. As of June 30, CFB shareholders' equity was $8.6 million, or a book value of $6.18 per share. With the cash, and assuming CFB's book value doesn't change much, Embarcadero will pay about $9 million for CFB, which has $79 million in assets and two branches.
The more controversial part of the new deal is excluding CFB's chief executive from the new bank. In most bank mergers, the acquired bank's top executive lands a position in the new bank, usually as president, or is at least accorded a board seat. In the original deal, Ives was to become the chief operating officer, while Kunac was to become the CEO.
Asked to comment about the change, Kunac simply stated, "Bruce Ives will not be continuing with the bank," and declined to elaborate. Calls to Ives, who was one of CFB's founders were not returned.
The changes in the deal should convince dissident CFB shareholders to approve it, Kunac said. "It's our belief that this is a very supportable and very good transaction for both institutions."
Sources said that CFB shareholders were unhappy with Ives and his performance, and didn't want him included in the management of the new bank.
In another change, CFB shareholders will select four of its directors to serve on the new bank's 11-member board. The remaining seven seats will be held by the existing Embarcadero Bank's board members, Kunac said.
If CFB's shareholders do approve the amended offer, Kunac said an optimistic view would have the transaction completed Sept. 30, but a more realistic expectation would be Oct. 30.
When the sale was first announced, the transaction appeared to make a lot of sense. CFB had never made a profit in its six years, and Embarcadero had lots of capital but was making few loans.
By combining forces, the new bank of about $150 million in assets would be in a better position to make more loans, and grow in size, some bankers said.
"A merger of these two institutions is probably the best outcome for both banks," said Mike Perry, chief executive of San Diego Trust Bank.
Profitability Issues
Founded in 2005, CFB has been a laggard among local community banks, and never has made a profit.
In the past four years, starting from 2007, its annual net losses have been $602,000; $534,000; $1.74 million; and $111,000.
In its most recent quarterly report for the second quarter, CFB reported a net loss of $782,000, and a six-month loss of $767,000 (it made $15,000 in the first quarter). The bank's total assets were $79 million, down from $97 million in June 2010.
The bank is also still carrying an inordinate amount of problem assets on its books, $3.3 million, or 4.17 percent of its total assets.
Adding to its dismal performance, the CFB board has had a history of turmoil. At least four original board members have resigned in recent years. Barbara DeMichele is the bank's third chairman, highly unusual for a bank that's only 6 years old.
Founding Partner Resigned
Tom Stickel, the bank's first chairman and a founding partner, resigned in 2009 after he disagreed with the majority of the bank's board over opening an office in the Little Italy section of downtown. Stickel is the former chairman and CEO of TCS Enterprises Inc., a former public company that was involved in mortgage banking, insurance and publishing. Stickel couldn't be reached for comment.
Stickel was able to get Jerry Sanders to join the board as a founding director in 2005 before he was elected mayor of San Diego in a special election that year. Sanders, who gave no official reason for resigning in 2009, was replaced by Tom Page, the former CEO of San Diego Gas & Electric Co.
Other CFB board members who have left are Bill Huck, the second chairman, Todd Anson, a commercial real estate developer, and Edward Martin, a retired Navy vice admiral.