'Extraordinary Gains' Boost Sempra Earnings
Tuesday, August 9, 2011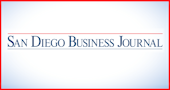 Sempra Energy reported on Aug. 9 that it had second quarter net profit of $511 million, up from $277 million for the like quarter of 2010.
For the half, Sempra, parent of San Diego Gas & Electric Co., reported net income of $769 million, compared with $328 million for the first half of 2010.
The second quarter results included $277 million in extraordinary gains from a write-up in the value of Sempra's investments in Chile and Peru after it acquired a controlling interest in two companies earlier this year, the company said.
On a diluted per share basis, Sempra earned $3.19 compared with $1.31 in the first half of 2010. The company reaffirmed its 2011 guidance to finish at $4 to $4.30 per share, excluding the South American per share gains of $1.15. Including those gains, Sempra said its 2011 net profit would be $5.15 to $5.45 per share.
Revenue in the second quarter rose to $2.4 billion, up from about $2 billion in the like quarter of 2010. For the half, revenue was $4.85 billion, up from $4.54 billion in the first half of 2010.
In midday Aug. 9 trading on the New York Stock Exchange, shares of Sempra rose 59 cents to $46.18. The stock's 52-week range is $45.10 to $55.97.
— Mike Allen