ENERGY: $3.5B PROGRAM COULD ULTIMATELY SAVE MONEY, UTILITY MAINTAINS
Smart Grid Promises Benefits of Coordinated Power Consumption
Monday, August 8, 2011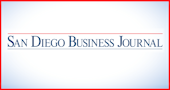 SAN DIEGO GAS & ELECTRIC CO.
CEO: Jessie Knight.
Operating revenue: $3.05 billion in 2010; $2.92 billion in 2009.
Net income: $369 million in 2010; $344 million in 2009.
No. of local employees: About 5,000.
Headquarters: San Diego.
Year founded: 1881.
Company description: Full-service utility providing electric power to 3.4 million customers in San Diego and parts of Orange counties.
Key factors for success: Making customers, reliability and safety top priorities; thinking forward to the future; being engaged as a community partner.
San Diego may have more solar cells and electric vehicles per capita than any place in the country, but unless the region implements a more advanced system of managing the net power gains resulting from using alternative sources it won't mean that much, says Lee Krevat, director of San Diego Gas & Electric Co...