Community Gets a Say on Horton Plaza Renovation
Tuesday, April 19, 2011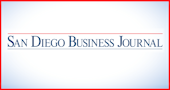 Residents and business leaders can help shape the vision for a new public square planned at Horton Plaza, during an open house set for April 21.
Centre City Development Corp., San Diego's downtown redevelopment agency, will hold the gathering from 5:30 to 8:30 p.m., in the former Robinsons-May building at 97 Horton Plaza. The project's design team will give formal presentations from 5:45 to 7 p.m., according to a CCDC statement.
Participants can give input on the project, which will expand public open space and provide a venue for a variety of events including community gatherings, civic celebrations, outdoor concerts, movies and farmers' markets. Plans call for the Robinsons building, which also previously housed a Planet Hollywood restaurant, to be torn down in order to expand the plaza.
The existing historic Horton Plaza, including its iconic fountain, will also be rehabilitated as part of the project.
The project is a partnership between CCDC, working on behalf of the city's redevelopment agency, and the operators of the adjacent Westfield Horton Plaza shopping center.
— Lou Hirsh