CoDa Raises $19.2 Million in Series B Financing Round
Monday, April 18, 2011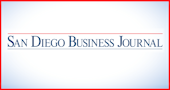 CoDa Therapeutics Inc., a San Diego biotech working on new therapies to speed healing for wounded patients, said April 18 that it raised $19.2 million in a Series B financing round, and possibly more investments from additional investors in the future.
Current investors Domain Associates LLC., GBS Venture Partners and BioPacificVentures participated in the round.
The funding will allow CoDa to conduct phase two trials on Nexagon, a drug for treating chronic wounds in patients, in the United States, New Zealand and Australia, the company said.