TECHNOLOGY: FIRM EXPECTS TO HAVE 5,000 KIOSKS OPERATING BY 2013
Funding Helps ecoATM Answer The Electronics Recycling Call
Monday, April 11, 2011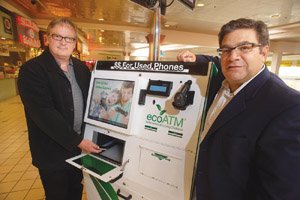 EcoATM
CEO: Tom Tullie.
Revenue: Would not disclose.
No. of local employees: 15.
Investors: Coinstar Inc., Claremont Creek Ventures, Tech Coast Angels, Tao Venture Partners.
Headquarters: Sorrento Valley.
Year founded: 2008.
Company description: Designer and maker of automated self-service kiosks that accept unwanted consumer electronic devices in exchange for cash or rebates.
Cell phone recycling is about to become more common following an infusion of $14.4 million in venture financing into San Diego-based ecoATM.
The local startup is using a chunk of the funding package that closed earlier this year to redesign and expand its relatively small network of kiosks that accept used and unwanted cell phones in exchange for cash, store credit or the ability to make a charitable contribution.
"We now have 17 kiosks in the field, but by the end of this year, we should be at 100 kiosks," said Mark Bowles, ecoATM's founder and chief marketing officer.
By the end of next year, the company should have about 1,000 kiosks, and by 2013, it expects to have some 5,000 in use nationally, Bowles said.
Most of ecoATM's machines, nine, are located in San Diego at Westfield Group's shopping centers. There are four operating in Orange County, Los Angeles areas.
Launched in 2008, the business obtained early angel financing including some from the Tech Coast Angels. The first round financing came in equal investments from early investor Coinstar Inc., the Bellevue, Wash. company that operates Redbox video kiosks, and Claremont Creek Ventures of Oakland. Silicon Valley Bank also provided a market rate loan of several million dollars as part of the financing arrangement, Bowles said.
The business, the first startup to "graduate" from the EvoNexus incubator program in San Diego last year, had been seeking venture investment for a long time, but it held out for the right deal that preserved most of the company's equity for the founders, Bowles said.
"We got precisely what we wanted," he said.
As part of the transaction early investor debt of about $3 million, which included funding from the Tech Coast Angels and Tao Venture Partners, was converted into preferred stock.
In addition to the VC money and the loan, ecoATM also won a $150,000 grant from the National Science Foundation. The firm has applied for a second government grant of about $1 million, Bowles said.
The need to take unwanted cell phones and other electronic devices out of landfills is certainly building. According to the Consumer Electronics Association, U.S. consumers buy about 500 million new gadgets annually, and the average household now owns 26 electronic devices, bringing the aggregate total to nearly 3 billion, many of which aren't working.
EcoATM obtains the used devices, now mainly cell phones and MP3 music players, and sells them to companies that refurbish the devices in domestic and foreign markets. For devices that are beyond redemption, the company extracts parts that can be sold to other vendors.
Some of the recent funding ecoATM obtained is being used to produce better and more durable automated machines. The latest station was rolled out in late February at a trade show and is being manufactured in San Diego by D&K Engineering Inc. The interface design for the new machine was done by DD Studio of Carlsbad.
The fact that the machines are designed and made here is generating dozens of new jobs locally, while supporting some 37 contracted jobs connected to the manufacture of the machines, Bowles said.
The firm, now at 75 direct employees, is looking to hire at least four to five software and quality assurance engineers immediately, and will expand its kiosk staffing group as it grows the network, Bowles said.
The beauty of ecoATM's business model is the immediate cash or cash equivalent rebates customers get when they deposit their unwanted phones into the machines, company executives say.
"We've been successfully testing our systems over the last year and a half and are providing what consumers want: ease of use, best value and immediate payment for their used electronics," said Tom Tullie, ecoATM's chief executive.
Tullie testified in Washington, D.C., to a Senate subcommittee regarding the limit on grants through the federal government's Small Business Innovation Research program. Tullie said companies such as ecoATM should continue to receive SBIR grants despite the fact that they have received venture capital investment.
The company is also taking steps to ensure its technology isn't stolen or copied. It received its first patent from the U.S. Patent and Trademark office for the overall concept and system, and has made six other patent applications, Bowles said.
EcoATM accepted about 50,000 electronic devices last year, with the average price paid to a customer about $25, Bowles said. He declined to provide revenue figures but said the business was on track to breakeven and begin making an operating profit in 2012.
Randy Hawks, a managing director at Claremont Creek Ventures, said his firm was drawn to ecoATM not only because of its environmentally aware premise, but for its business model.
"EcoATM provides tons of value to the consumer by giving them cash for their digital clunkers and simultaneously managing the recycling in a very Earth friendly way," Hawks said. "They also have a smart business model. That's why we invested."