CONTRACTOR COMPLETES $10.6M AIR FORCE FACILITY 
Projects, developments and other activity in cities in and around San Diego County
Monday, April 4, 2011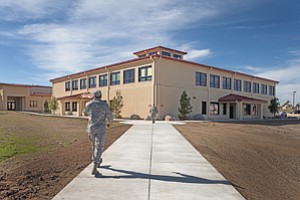 Contractor Completes $10.6M Air Force Facility
San Diego-based general contractor T.B. Penick & Sons Inc. has completed construction on the $10.6 million design/build Global Support Squadron Command and Operations Facility at Travis Air Force Base in Fairfield for the U.S. Air Force.
Designed by Cass|Sowatsky|Chapman + Associates of San Diego, the facility serves approximately 275 military personnel and supports training functions in addition to operations for the U.S. Air Force. The Naval Facilities Engineering Command, Southwest in San Diego was the contracting agency.
 Construction of the two-story, 25,088-square-foot building is comprised of steel span and metal seam roof with integral colored pre-insulated exterior finish, anti-terrorism force protection design and related site improvements. The facility includes a command office, duty officer workstations, administration offices, secure communication facilities, training classrooms, computer lab and a public reception area.  Interiors feature clerestory natural day-lighting, contemporary furnishings and soft pastel colors.  The project is seeking Leadership in Energy and Environmental Design Silver certification from the U.S. Green Building Council.
 T.B. Penick's team included: Owen Bingham, design manager; Bob Nisbet, construction manager; Allen Hancock, superintendent; Robert Van Dyke, construction quality control; and Michelle Canada, project administrator. Ed Cass was the principal-in-charge for Cass|Sowatsky|Chapman with Matthew Buster as the project architect.
The Department of the Navy development team was comprised of Rondel Williams, contract specialist; Lt. Michael Collins, construction manager; and Phil Peterson, engineering technician.
Major subcontractors included Ahlborn Structural Steel Inc., Bergelectric, Solano County Roofing, Summit Drywall and Painting, and Garcia Door and Window.
Firm Selected to Design, Build 2nd Sunroad Tower
KMA Architecture & Engineering, in partnership with Swinerton Builders, has been retained as the architect of record to design and build the Class A Sunroad Centrum II Office Tower for Sunroad Enterprises. Construction is scheduled to begin in late 2011 and is expected to be complete in 2012.
Located at 8600 Spectrum Center Blvd. in Kearny Mesa, the eight-story, 200,000-square-foot office tower is building two of a three-building phased complex, the first phase featuring the tallest office building in Kearny Mesa, and is one of very few private sector office building projects in San Diego. The building will be used as a call center for Bridgepoint Education.
Using the latest Building Information Modeling technology, designs are under way with plans to achieve LEED certification with a number of sustainable design features including:
• Development is taking place on a previously developed site;
• Public transportation on adjacent block to promote community connectivity;
• Regional materials to reduce material transportation costs;
• Covered and preferred parking for low-emitting/fuel-efficient vehicles;
• Water-efficient landscaping and groundcover;
• Large exterior window walls for maximum natural day-lighting and exterior views to all work spaces and open air floor plans to facilitate interaction among employees;
• A state-of-the-art ground floor dining facility, designed by the Orness Design Group, to minimize need for travel during lunch;
• Highly reflective roofing material for reduction of heat island effect;
• Low-flow plumbing fixtures for water conservation; and
• Use of certified wood products to reduce strain on rainforests.
"Sustainable design is not just about using green materials but about integrating the design to achieve a higher level of efficiency," said B. Moon Hajjar, senior associate for KMA. "It is important to pursue design and construction elements that will save resources and lower life-cycle operating costs."
The KMA team consists of Don Blair, principal in charge; Hajjar, project manager; Rich Guerena, project architect; Jay Janda, project architect; Robb Walker, design coordinator; Ilia Voronchihin, project architect; and Heather Mertes, LEED associated professional. BPA Architecture is the design architect for the master plan as well as the individual buildings.
The project manager for Swinerton Builders is Paul Vujica; chief estimator is Bob Wilson; and the district manager is Don Adair.
Other services are provided by: Hope Engineering, structural engineer; Michael Wall Engineering, electrical engineer; McParlane Engineers, mechanical and plumbing engineer; KTU&A, landscape architect; Stevens Cresto Engineering, civil engineering; BPA Architects, design architect; and Orness Design Group, kitchen design consultants.
Topping Out Celebrated At Carlsbad High School
Representatives from Gafcon Inc. and McCarthy Building Cos. Inc. celebrated alongside officials from Carlsbad Unified School District and Carlsbad High School on March 22 during a "Topping Out" ceremony at the school. 
Attendees, including members of the CUSD board of trustees and students from the school's Associated Student Body, watched as the construction team hoisted the final steel beam into place, completing the structure's frame and marking a milestone in the construction of the new classroom complex. School Board President Lisa Rodman, District Superintendent John Roach and Carlsbad High School Principal Margaret Stanchi delivered remarks to commemorate the event and thank those involved.
The project is part of an $87 million renovation of Carlsbad High School to eliminate overcrowding problems and improve existing facilities. Gafcon, a San Diego-based construction management and consulting firm, is providing program and project management services and is collaborating with construction contractor McCarthy Building Cos. for the renovations.
The Carlsbad High School project is funded through Proposition P, a $198 million bond voters passed in 2006 for improvement and construction of school facilities throughout the CUSD. The program also includes the construction of a new high school on Cannon Road, which Gafcon is also managing.
For more information about the project, or about Gafcon, please visit gafcon.com or the Proposition P section on CUSD's Web site.
Wells Fargo Renews Its Sorrento Mesa Lease
Jones Lang LaSalle represented Legacy Partners in a 61,249-square-foot, 36-month lease renewal valued at more than $4 million with Wells Fargo at the Legacy Wateridge office building.
Chad Urie, executive vice president, and Tim Olson, vice president of Jones Lang LaSalle, represented the landlord, Legacy Partners. Matthew Miller and Chris Powers of CresaPartners represented the tenant, Wells Fargo.
Legacy Wateridge, which consists of two, two-story Class A office buildings totaling 123,000 square feet, is located at 10421 and 10431 Wateridge Circle in San Diego's Sorrento Mesa submarket. Wells Fargo's mortgage and retail banking groups currently use the facility.
"Our agency real estate team worked diligently with Legacy Partners to craft two leases that would address the different business objectives and requirements of Wells Fargo's mortgage and retail banking departments," said Urie. "Wells Fargo is an important tenant and we are pleased they decided to recommit to Legacy Wateridge. Effective communication and creativity on both sides led to a mutually beneficial lease renewal."
Credit Union Obtains 13-Year Office Renewal
The Saywitz Co., a privately held commercial real estate brokerage firm, recently closed a 13-year, 4,638-square-foot office lease on behalf of San Diego Medical Federal Credit Union. The company's San Diego headquarters is located in Mission Valley at 8889 Rio San Diego Drive.  
The value of the lease was approximately $2 million.
Jeff Saywitz, senior vice president of The Saywitz Co., represented the tenant and Richard Gonor of Jones Lang LaSalle represented the landlord, Griffin Properties.