DEFENSE: COMPANY HAS PAID $522M TO BUY 5 FIRMS SINCE MAY
Kratos Deploying Aggressive Strategy
Monday, April 4, 2011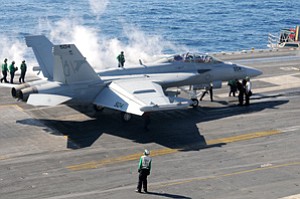 KRATOS DEFENSE & SECURITY SOLUTIONS INC.
President and CEO: Eric DeMarco.
Revenue: $408.5 million in 2010; $334.5 million in 2009.
Net income/loss: Net profit of $14.5 million in 2010; net loss of $41.5 million in 2009.
No. of local employees: 250.
Headquarters: University Towne Center area.
Year founded: 1994 as Wireless Facilities Inc. Changed name to Kratos in 2007.
Stock symbol and exchange: KTOS on Nasdaq.
Company description: Defense contractor.
Kratos Defense & Security Solutions Inc., the government contractor that grows by bolting on smaller defense businesses, has concluded its latest purchase: an outfit with 1,000 employees, a talent for microwave communications, and a front-row seat to the unrest in North Africa.
Kratos said March 31 that it successfully completed its purchase of Pennsylvania-based Herley Industries Inc. for $305 million.
"It looks like Herley's biggest program has been a hit so far in Libya," analyst Mike Crawford wrote last week. A signal-jamming aircraft that first went into combat in mid-March, the U.S. Navy's EA-18G Growler, helped U.S. forces in their air strikes on Libya. It carries Herley electronics.
In a March 2 research note, Crawford wrote that Herley also supplies electronics for two other new aircraft models, the U.S. Marine Corps' V-22 Osprey airplane/helicopter hybrid, and the U.S. Navy's P-8 Poseidon reconnaissance jet. Herley electronics help operate or test dozens of aircraft and missile systems, including Trident submarine-launched ballistic missiles.
In February, Crawford's employer, Los Angeles-based B. Riley & Co. LLC, helped Kratos sell $64.8 million in stock to help pay for the Herley acquisition. On March 25, Kratos said it had successfully acquired 93.7 percent of Herley stock. Kratos paid $19 per share, a 17 percent premium over Herley's closing price on Feb. 7. Kratos announced its offer for Herley following the market's closure Feb. 7.
Kratos is involved in a wide variety of military and homeland security projects, including missile defense, unmanned systems and cybersecurity. Some work is classified.
The firm employs 2,800 engineers and technical specialists. The vast majority work outside San Diego. Some 600 employees, for example, do missile work for a variety of U.S. Department of Defense agencies in Huntsville, Ala.
The company sums up its business with the abbreviation C5ISR, short for command, control, communications, computers, combat systems, intelligence, surveillance and reconnaissance.
Borrowing Helps Fund Growth
In an environment where new programs are delayed or canceled, Kratos has "solid" work in updating, maintaining and sustaining "proven and deployed" C5ISR systems, Kratos President and Chief Executive Officer Eric DeMarco said in a March 1 investor conference call. DeMarco was traveling last week and unavailable for an interview.
Kratos borrows to help fund its growth. The company said March 25 that to buy Herley, it closed $285 million worth of senior secured notes, due 2017. The effective interest rate on the notes is 8.5 percent.
Kratos expects debt on its senior notes to grow from $225 million on Dec. 31, 2010, to $510 million on the last day of 2011. Increasing amounts of cash on the balance sheet will bring net debt to $420 million on Dec. 31 of this year and $385 million on Dec. 31, 2012, according to a presentation DeMarco made to analysts March 29 at the Homeland Security Finance Forum presented by Global Security Pipeline, part of VB Research, in Washington, D.C.
Kratos is the No. 21 company on the San Diego Business Journal's latest list of Largest Public Companies, ranked by fiscal 2009 revenue of $334.5 million. It was ranked 33rd the year before.
It looks as if Kratos will move even higher on the next version of the list. With the Herley acquisition, Kratos said it expects revenue in the range of $750 million to $760 million in 2011. That will grow to $770 million to $805 million in 2012, according to DeMarco's March 29 presentation.
Buying Spree
Saying Kratos has a taste for acquisitions is like saying a koala has a taste for eucalyptus. It is an understatement.
Kratos has an "aggressive" acquisition strategy, noted analyst Mark Jordan of New York-based Noble Financial Group Inc. in a Feb. 23 research letter. In the past year, Kratos has acquired:
• Henry Bros. Electronics Inc., a homeland security specialist, for $56.6 million, in a deal that closed in December.
• Southside Container & Trailer LLC, a South Carolina manufacturer of modular buildings for the Department of Defense and other federal agencies, for $13.7 million, in a deal that closed in December.
• DEI Services Corp., a Florida-based maker of flight trainers for military aircraft, for $14 million, in a deal that closed in August.
• Gichner Holdings Inc., a Pennsylvania-based maker of military shelters including products that resemble shipping containers, for $133 million, in a deal that closed in May.
Editor's note: A previous version of this story misidentified the company that presented the Homeland Security Finance Forum. This version corrects the error.