Entrepreneur Aims High With New McClellan-Palomar Airline
Monday, September 27, 2010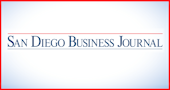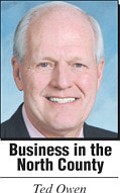 The health of the airline industry will be put to the test in Carlsbad where a new airline is about to enter the marketplace.
The question is, can a struggling industry that charges for everything on the plane except for use of the bathroom find room for another player? Ted Vallas, a 90-year-old serial entrepreneur, thinks it can, so he is putting his money and reputation on the line with the startup of California Pacific Airlines.
In the spring of 2011, California Pacific will begin flying to a few select cities in the U.S. and Mexico. According to an article in the North County Times, a passenger can get through check-in and security in 30 minutes or less, then board a next-generation jet with a wide aisle and no middle seats for a nonstop flight. The airline will have three classes of service, and you can bring two bags for free. You can pull all this off without ever getting anywhere near Lindbergh Field. Did I mention that it's at a very competitive price?
California Pacific Airlines is pursuing both the leisure and business travelers who like to go to nice places with as little hassle as possible. Vallas' airline plans on getting you there with little trouble, cost-effective pricing and without going to an airline hub city on the way.
This venture is his latest in a long line of successful entities. It is also not his first foray into the airline business. Back in the early 1970s, he operated Air Resorts Airline and ran it for 17 years. He has owned an instrumentation company, golf resorts, mobile home communities, hotels and resorts to name a few.
Vallas has put up $10 million of his own money and gathered more than $40 million more from investors. He is buying three new Brazilian-made Embraer E-170 planes, each of which holds 70 passengers with lots of legroom. California Pacific Airlines will be based at Carlsbad's McClellan-Palomar Airport complex in an 18,000-square-foot facility and will employ about 120 people.
Conveniences for Passengers
Upon arrival at the airport, passengers will see a new boarding lounge, a new restaurant, plenty of parking and a high-tech monitoring program called WebTrac.
The system allows a passenger to follow arrivals and departures, flight path, altitude and noise levels of planes crossing the airport as well as weather conditions. For those traveling to foreign cities, the airport has a certified U.S. Customs and Border Protection gateway that allows you to check your bags for flights outside the U.S.
He plans to begin operations in spring 2011 with flights to Sacramento, then Oakland, San Jose, Phoenix, Salt Lake City and Cabo San Lucas, Mexico.
In other North County news:
JCPenney at Westfield Plaza Camino Real has just completed a $3.5 million remodel of its store. The new look provides a new shopping venue. Sephora, the ultimate beauty destination, opened giving shoppers the freedom to shop for beauty products from Dior, DKNY, Smashbox and other top-of-the-line fashion houses.
Tri-City Medical Center's two-year-old Wellness Center in Carlsbad has captured the Best Gym in San Diego County award for the second straight year, according to 95,000 viewers of KGTV Channel 10.
The 58,000-square-foot, fully integrated health and fitness campus sets the stage for a comprehensive, medically integrated environment directed toward members' total well-being. It employs only college-graduate-level certified fitness specialists and health educators.
Locals on Inc.'s List
Three North County businesses have made this year's Inc. Magazine 500 Fastest-Growing Companies list. MaxLinear, a radio frequency chip maker in Carlsbad, was ranked 17 with growth of 8.784 percent over three years and registered revenue in 2009 of $51.4 million. No. 69 on the list is Solana Beach-based Service-now.com, a help desk tracking software manufacturer with a growth rate of 3.441 percent and sales of $27.8 million. Covario, a search engine marketing firm, came in at 420 with a 705 percent growth on revenue of $15.3 million. This is the second consecutive year for Covario.
Ted Owen is president and chief executive officer of the Carlsbad Chamber of Commerce.