Vical to Put More Shares on the Market
Friday, September 24, 2010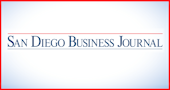 Vical Inc., a San Diego biotechnology company that develops gene therapies and experimental vaccines, announced Sept. 24 the pricing of an underwritten public offering of 15 million shares of its common stock at $2.25 per share.
The gross proceeds of the offering are estimated at $33.8 million before deducting underwriting discounts and commissions. Net proceeds will be used for general corporate purposes, including clinical trial expenses, research and development and working capital.
The offering is expected to close Sept. 29. Jefferies & Co. is acting as sole book-running manager in the offering. Vical has granted underwriters a 30-day option to purchase up to 2.25 million additional shares of common stock to cover over-allotments.
Shares of Vical, traded under VICL on Nasdaq, were down nearly 20 percent at $2.30 in midday trading Sept. 24. The stock's 52-week range is $2.25 to $4.89.
– Steve Sinovic