REAL ESTATE: IRVINE CO., EVONEXUS STRIVE TO MAKE UTC AREA A HIGH-TECH CLUSTER
Technology Incubator Hatches
Monday, September 6, 2010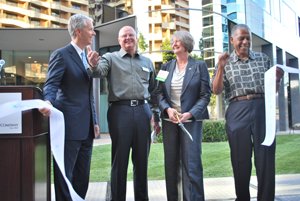 IO Semiconductor is getting ready to leave the nest, also known as EvoNexus, a technology incubator now operating in the University Towne Center area that had a big financial impact in getting the fledgling company off the ground.
But it won't be straying far as it sets up its first permanent home in the fall. "We're going to be right around the corner, in space we're negotiating on here in UTC," said Chief Executive Officer Mark Drucker, whose firm develops technology for cell phones and other mobile devices.
Leaders of EvoNexus and its landlord, The Irvine Co. LLC, which is providing 18,000 square feet of free office space to the incubator for its first two years, are hoping the stay-close-to-home practice sticks as more companies are born there.
If that happens, they say, UTC once again could become known as a cluster of cutting-edge, high-tech development firms, as it was in the 1990s. At least, experts note, the incubator could provide a steady stream of new players that set up shop throughout San Diego's already active tech hubs, such as Sorrento Mesa and Torrey Pines Mesa.
EvoNexus was formed in 2009 by CommNexus San Diego, a locally based nonprofit trade association of high-tech companies. On Aug. 24, CommNexus hosted an open house at its new 18,000-square-foot headquarters at UTC La Jolla, which included demonstrations by some of the tech firms being nurtured there in the incubator. The event at 4225 Executive Square featured the "graduation" of the first two of 10 high-tech startup companies that the incubator has been shepherding.
Before moving into the incubator in the UTC area, seven of the 10 companies had been housed in the former CommNexus/EvoNexus site in Sorrento Mesa since fall 2009, according to CommNexus. CommNexus also moved its headquarters from Sorrento Mesa to the Executive Square location that houses the EvoNexus incubator.
Early last month, those seven companies moved to the UTC area site and were joined by three more companies.
The incubator, which can accommodate 10 firms at a time, allows startups to focus on their core missions by providing free office space and equipment, mentoring and related assistance, as they grow to their revenue-generation phase.
In exchange for the assistance, the startups must adhere to their original business plans and reach viability within 24 months.
Rigorous Approval Process
Cathy Pucher, executive director of EvoNexus, says the combination of a rigorous approval process for incubator candidates, with the support and timing discipline, has been potent: The first two incubator graduates alone raised a combined $12 million in less than a year, she says.
"We treat these companies like an investor would," Pucher said. "I think this is going to have a big impact on UTC and on San Diego."
In addition to the semiconductor firm, the incubator recently graduated ecoATM, a provider of high-tech kiosks that let consumers get cash for their old cell phones and mobile devices, which are eventually recycled.
Company President and CEO Tom Tullie estimates that being in the incubator saved the firm $100,000 in startup costs, helping trim three to six months off its launch time.
"Our people initially were having meetings on the phone or meetings at Starbucks," Tullie recalled of the firm's pre-incubator days. "It was so good to have a nice office where we could bring investors in to meet with us."
On a trip to the incubator's break room one day, Tullie says, he met an expert at another firm who gave him advice on a software fix, which later helped his company save around $20,000.
Despite the good experience at UTC, ecoATM recently moved from the incubator to a 9,000-square-foot space in the Sorrento Mesa area — a region best known for Qualcomm Inc. and other telecom and wireless tech firms.
Bright Idea
While he says the decision boiled down to finding the site best-suited to the workspace needs of the firm's initial 50 employees, Tullie is bullish on the incubator's potential to attract startups.
"It's very smart of Irvine Co. to do this," he said. "Many of the companies that are associated with it will know the infrastructure, they'll know how it is to work at UTC, or go to the mall here, and what the area has to offer, so they'll stay there."
Local brokers who handle tech-company leasing say it's too soon to judge the incubator's impact as a producer of business tenants in the UTC area, which has been struggling with high office vacancy rates for several months.
According to the latest available data from brokerage firm Cassidy Turley BRE Commercial, the UTC office market had a direct vacancy rate of 23.1 percent at the end of the second quarter, well above San Diego County's overall rate of 17.4 percent.
Looking Elsewhere First
Brett Ward, a local broker with Cassidy Turley, maps out two likely scenarios for companies emerging from the incubator. The more frequent one, he predicts, will be early-growth companies, seeking 3,000 to 5,000 square feet of space, looking first at developments in Sorrento Mesa.
While UTC is currently competitively priced because of higher office vacancies, in a normal economy Sorrento Mesa rents tend to be around 25 percent lower than UTC's, Ward says.
Doug Lozier, a senior vice president with CB Richard Ellis, says the incubator is focused on industries with good growth potential, and could provide a steady stream of companies to fill office complexes throughout the region, including the UTC area.
While Irvine Co.'s philanthropic intent is evident, whether the incubator translates into new UTC tenants may depend on how quickly the economy recovers and other factors.
"Most landlords don't get involved in incubators at this level because of the intense nature of the capital requirements," Lozier said. "In tough times like these, if you can do things to build tenant loyalty, that's good, but the landlord must be able to execute. Irvine Co. generally has a good track record."
No Strings Attached
Doug Holte, president of the Irvine Co.'s office division, says this is the first time Irvine has participated to this extent in the establishment of a pro-bono incubator, and this is the only enterprise he knows of that gives that level of support to startups with no strings attached. For instance, there are no demands for ownership or revenue stakes in technologies developed there.
"This is in a sense, we think, an opportunity to reintroduce people to the benefits of being at UTC," Holte said, noting the area's proximity to UC San Diego and other tech hubs, including Sorrento Mesa and the biotech resources of Torrey Pines Mesa.
"This is in some ways a chance for businesses to get themselves established here and still be very close to these other clusters," Holte said.
While UTC has long been a stronghold for financial companies, including insurance, real estate and banking firms, the submarket's office towers have not been a big draw for tech firms since the late 1990s, when a number of players — including Gateway Computer and later Sun Microsystems — gradually moved out or downsized local operations.
Rory Moore, CEO of CommNexus, says the organization is looking to change that with an emphasis on emerging technologies in fast-growing industries. "It's the aim of Irvine Co., and also our aim, to make that area into a tech cluster again," Moore said.