ENERGY: ISE SEEKS LOAN TO GET THROUGH RESTRUCTURING PERIOD
Firm Was Rolling, Until Bankruptcy
Monday, September 6, 2010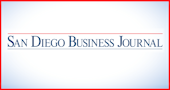 From all accounts last year and into the first quarter, ISE Corp. looked like the poster child for the region's clean-tech energy industry.
The Poway company, aka Innovative Solutions for Energy, makes hybrid electric drive trains for buses and trucks. It was taking off as more transit agencies purchased the hybrid vehicles, many to comply with government mandates to reduce carbon emissions.
Last year, ISE more than doubled its sales to $44 million, and in February it raised $20.7 million in Canadian dollars through a stock sale on the Toronto Stock Exchange.
But last month the company announced it filed Chapter 11 reorganization bankruptcy, citing a lack of cash and an unsuccessful search for either new capital or a willing buyer.
"It was a combination of not getting enough money in the IPO (initial public offering) and a drop in the backlog of business that created a situation where we ran out of cash quicker than we thought we would," said Rick Sander, ISE's chief executive officer.
Sander said ISE now has 75 employees, down from a staff of 130 who were on the payroll in February. Last week, Sander said the company was close to obtaining a bridge loan from either a private equity group or another company that should provide sufficient cash through an expected 90-day period to restructure.
Aiming to Raise More Capital
Although ISE looked like a winner when it conducted the stock offering, Sander said the company knew the capital wasn't going to be sufficient, and disclosed it was working to raise more to carry it through the end of the year.
After subtracting all the legal and other expenses associated with the IPO, the company netted about $16 million. From that it used about $6.2 million (U.S.) to repay outstanding promissory notes. Then there were all the bills from suppliers that had to be paid.
ISE suppliers were aware of their financial stress because it was fully disclosed in the proxy statement prior to the stock offering, said Mike Sund, a spokesman for Maxwell Technologies Inc., which provides ultracapacitors, or advanced energy storage systems, to ISE.
"We saw that (securities) filing like everybody else and recognized they were going to have to find more financing, so in that sense (the bankruptcy) wasn't a surprise," Sund said.
As part of the prospectus, ISE provided investors with an auditor's report that noted the company's recurring losses, an accumulated deficit of $90 million, and lack of committed financing that raise doubts about the firm's future. Auditors repeated that opinion for ISE's first-quarter results, stating its ability to continue as a going concern depended on securing new capital.
Impediments to Progress
Sander said for much of this year, ISE has been trying to arrange a joint venture with several interested parties. When that didn't materialize, the company tried to put together a PIPE transaction or a private investment in public equity, which also failed.
Adding to a tougher financing environment was the fact that ISE's ultimate customers — the city transit agencies that buy lower emission buses — were pulling back from planned orders of those buses from the bus manufacturing companies such as New Flyer Industries Inc. of Winnipeg, Manitoba in Canada.
The transit agencies were pushing back their orders because of severe cuts in the state budgets due to the reduced taxes governments were collecting as a result of the ongoing economic recession, Sander said.
During the bankruptcy reorganization process that will likely result in existing shareholders being diluted, the company continues to operate and service its customers, Sander said.
Interest in the firm remains strong, as savvy investors are well aware that ISE's business has plenty of value, Sander said.
"There's lots of private equity funding out there that's interested in ISE just as there was before (it filed for bankruptcy)," he said. "We believe there's tremendous value here."
Seeking Relief Through Grants
One source of possible financial relief that ISE had hoped to secure was in the form of federal grants. Sander said ISE made several applications for grants ranging from $50 million to $90 million, but received nothing.
He said much of the federal stimulus dollars for clean-tech have gone to other states, and that California was not getting its fair share.
Sander said the likely result of the company's reorganization is a sale to another company, or with another entity, possibly a private equity firm, taking a controlling stake. Whatever the form, the company should continue producing its hybrid electric drive trains, he said.
"If anything, this is where the new economy should be," he said.