Researchers Split $4.82M in Stem Cell Grants
Friday, October 22, 2010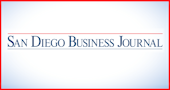 Two scientists at the UC San Diego School of Medicine have received grants totaling nearly $5 million from the California Institute for Regenerative Medicine for stem cell research. The grants, announced Oct. 21, are part of $67 million awarded by the San Francisco-based organization, abbreviated CIRM, to move research out of the labs and into the clinics.
The funded projects are expected to either result in a candidate drug or cell therapy or make significant strides toward such a candidate, which can then be developed for submission to the Food and Drug Administration for clinical trials, according to a press announcement from UCSD.
Dr. Catriona Jamieson, assistant professor of medicine and director of stem cell research at UCSD's Moores Cancer Center, received a grant for $3,341,758 to develop a dormant leukemia stem cell survival inhibitor.
The CIRM board also awarded a $1,481,471 grant to Alysson Muotri, assistant professor of pediatrics, to help design a future drug-screening system for autism spectrum disorders that employs human neurons.
The grants to Jamieson and Muotri boost total CIRM funding for UCSD projects to more than $78 million since the first awards were given in 2006.
— Steve Sinovic