EVENTS: FIVE-YEAR DEAL WORTH $1.5 MILLION; CITY COUNCIL EXTENDS LEASE ON VENUE
Valley View Casino Buys Naming Rights to Sports Arena
Monday, October 18, 2010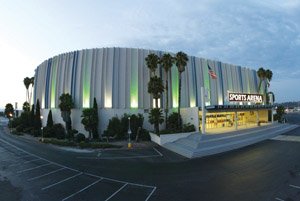 San Diego — The San Diego Sports Arena is again changing its name, giving exposure to one of San Diego County's backcountry casinos.
Valley View Casino purchased naming rights to the sports arena in a five-year deal worth at least $1.5 million.
Effective Nov. 1, the 44-year-old sporting and concert venue, operated by AEG, will take the name Valley View Casino Center. The 15,000-seat arena is in San Diego's Midway District, a few miles from downtown and beach communities.
"It stretches our name and our boundaries out," said Bruce Howard, general manager of the Valley View casino and hotel, which is several miles northeast of Escondido.
New signage should go up at the sports arena in four to six weeks, said arena General Manager Ernie W. Hahn II.
The City of San Diego, which owns the land under the sports arena, will take 10 percent of the naming rights fee, $157,000.
The San Diego City Council OK'd the arrangement Oct. 12. Financial aspects of the deal were detailed in public documents presented at the council meeting. Representatives of AEG and Valley View were closed-mouthed on the deal. Full details have not been made public, Howard said.
The deal had been in the works for five months, Howard added. After five years, Valley View has the option to extend the deal.
Looking Ahead
Run by the San Pasqual Band of Mission Indians, Valley View operates 2,000 slot machines and 25 gaming tables at its casino complex on Indian reservation land near Valley Center. Valley View is set to open a 108-room boutique hotel next to its casino Nov. 19.
Also at its Oct. 12 meeting, the City Council extended the sports arena's lease for an additional three years, from 2017 to 2020.
Hahn and Arena Group 2000 began operating the sports arena in 1992. They hold the lease on the building and city-owned land it occupies. In 2008, the group entered into a partnership with Los Angeles-based AEG.
The San Diego Sports Arena took the name ipayOne Center in 2005. What would have been a five-year, $2.5 million naming rights deal fell through when ipayOne, a Carlsbad-based mortgage brokerage, went out of business. The name then reverted back to San Diego Sports Arena.
The Valley View Casino deal opens up cross marketing opportunities, said Hahn, who also holds the title of senior vice president of AEG Facilities. For example, players at Valley View Casino will be offered a chance to see special events at the arena as guests of Valley View, Hahn said.
Funds from the naming rights deal will be used to continue the arena's push to improve its facilities. The parking lot needs half a million dollars worth of work, said Hahn.
Multiple Reasons
Sixteen months ago AEG demolished the Arena Club and built a high-end nightclub in its place. Other recent additions include 2,200 new seats, 80 LCD television screens, new lighting and new restrooms.
Dennis Conrad, who operates a casino marketing company in Reno, Nev., couldn't say whether Valley View's commitment to a naming rights deal was a good or a bad business decision. Generally, he said, such deals need plenty of thought behind them. "There have to be multiple reasons" to enter such an agreement, Conrad said.
He said a casino would be smart to use a naming rights deal to provide its best customers with concert or sporting event tickets.
Conrad is president and chief strategist for Raving Consulting Co., which does half of its business with American Indian casinos. Often an American Indian tribe tries to use a naming rights deal to boost its stature in a community — though this example is an exception, since the deal puts the name of the casino, not the name of the San Pasqual tribe, on the building.
Asked about using a naming rights strategy to promote its new hotel, Conrad said he would hope that Valley View would fill its hotel with its best casino clients, who would use it as a way to extend their stays and spend more time gambling.
The naming rights deal is not a first for an American Indian casino in San Diego.
In 2009, the Viejas Band of Kumeyaay Indians, which operates the Viejas Casino & Outlet Center near Alpine, bought naming rights to the 12,400-seat basketball arena at San Diego State University for $6 million. The 10-year deal renamed the building Viejas Arena.