REAL ESTATE: LOCAL SECTOR WAS IN POSITION TO WEATHER DOWNTURN
Shopping Center Development Is on Hold as Retail Waits for Better Days
Monday, October 18, 2010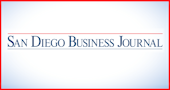 San Diego — Commercial real estate analysts say the pace of shopping center development in San Diego County will remain slow until the economy recovers and rising employment fuels more retail purchases.
"With the exception of curing some spot deficiencies that exist around the county, we are not going to see much shopping center development for the near future," said real estate economist Gary London of The London Group. "The emphasis is going to be on re-utilizing existing shopping centers and contemporizing."
In a third-quarter report for San Diego County, the Marcus & Millichap commercial real estate brokerage firm says a small inventory of for-sale properties drove down multi-tenant shopping center sales velocity 25 percent during the past year. The median price in the few transactions that closed in the last 12 months was $178 per square foot, an 8 percent decline from a year ago.
Exercising Caution
"While investor sentiment will continue to improve amid stable fundamentals, property listings will stay limited as owners remain cautious about moving out of the metro and few exchange opportunities materialize," the report said.
According to the brokerage, San Diego County's retail market will improve in the second half of 2010 as employment growth stimulates retail spending. Unlike other markets, where it boomed prior to the current recession, retail inventory growth in San Diego County was small, averaging just 1 percent annually. Because of that, the local retail market was not overbuilt going into the downturn. The slowdown in development kept vacancies manageable, the report said.
In the region's retail power centers, "vacancy was approximately 1 percent at the height of the market but has since pushed above 6 percent and could creep higher over the next several months," the report said.
Overall, shopping centers were hit hard by the drop in retail sales, said Kelly Cunningham, a senior fellow and economist for the National University System Institute for Policy Research in San Diego.
"We have seen a huge downturn in sales activity across California and here locally," he said. "I have a record for San Diego that goes back to 1935. The worst downturn we experienced since 1935 was in the last three years."
The recession has affected "every market: residential, office and retail," said Tom Sudberry, chairman of Sudberry Properties, a San Diego-based development and asset management firm. "Things always ebb and flow. I do see us getting back to the status quo at some point. There still are a fair amount of tenants looking to expand in infill areas."
Planned Projects
Despite the recession, Sudberry Properties has several shopping center projects that are expected to break ground in the months ahead. They include a 27-acre open-air development in National City, a community center in Carlsbad at Palomar Airport Road and El Camino Real, and a neighborhood center planned for Imperial Beach.
"We are in entitlement for a high-end community shopping center in Scripps Ranch," Sudberry said. "There still are plenty of areas in San Diego County that are under-retailed. Some can absorb a lot more retail."
Rob Ippolito, a director with Cushman & Wakefield's Retail Advisors team, said shopping center tenants are taking advantage of the recession to negotiate lower leasing costs. Even so, he thinks the market is in relatively good shape.
"Overall San Diego, with a vacancy rate of 7 (percent) or 8 percent, is tough to beat," he said. "We were not overbuilt. We don't run into centers that are 30 percent leased. You have tenants who are in there and they are active and they are trying to make it work."
As the economy improves, all new development will be tenant-driven, said Bruce Schiff, a partner with Cassidy Turley BRE Commercial.
"As the residential recovers, so will retail," Schiff said. "They go hand in hand. The jobs have to recover, which drives retail. They all are interconnected. It is all cyclical. Hopefully, the worst is behind us and we will be on the upswing in the next six to 24 months."
Emmet Pierce is a freelance writer for the San Diego Business Journal.