HOSPITALITY: BUYERS SHOW AN INTEREST IN FORECLOSURES AS HOSPITALITY CLIMATE IMPROVES
Debt Problems Are Still Having Big Effect on Local Hotel Properties
Monday, October 18, 2010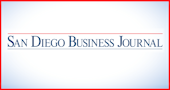 San Diego — Local hotels are faring much better than they did a year ago in terms of occupancy and revenue, but lingering debt problems plague several San Diego County hospitality property owners.
Atlas Hospitality Group's latest survey of distressed California hotels, covering 2010's third quarter, finds San Diego leading the state's counties in the number of hotels foreclosed on by their lenders, with 13. Its 41 properties in some stage of default are second only to Los Angeles County's 52.
"There's still a significant hangover effect with debt on properties," said Alan Reay, president of Irvine-based Atlas.
Reay noted that one thing differentiating the third quarter from recent periods is that California started to see an increase in the number of foreclosed hotels reselling to new buyers. This is a trend likely to continue through the current fourth quarter and accelerate into 2011.
Atlas researchers cite two main reasons for the pickup in sales activity involving foreclosed hotels. Lenders are realizing the difficulties in running such type of business, and are deciding to sell them off rather than hold onto them.
Looking for a Return
Also, buyers are willing to invest as the overall hospitality climate improves, knowing they now have a better chance to see a return on their investment. That's factoring into their willingness to take a chance on distressed properties.
For instance, the 316-room Mission Plaza Hotel & Suites in San Diego, which was foreclosed on earlier this year by its lender, was purchased in August by an affiliate of La Jolla-based Reven Capital and Jet Stream Hotels & Resorts for $12.5 million.
Atlas noted in an Oct. 11 report that there are still a disproportionate number of California hotels operating under some form of forbearance agreement, creating "a huge shadow inventory" of distressed deals yet to hit the default market. The consulting firm estimates this shadow supply to be as high as 1,000 hotels, on top of the 529 statewide in default or foreclosure.
In the third quarter, San Diego had 13 properties that were foreclosed on by their lenders, up from five in the third quarter of 2009. A total of 41 local properties had received a notice of default, up from 26 a year ago. Among local properties taken back by their lenders through foreclosure during the quarter were the 182-room Ramada Plaza Hotel Circle South, and the 88-room Holiday Inn Express Mission Bay, both in San Diego.
Local foreclosures occurred even as the San Diego County market generally has been posting strong occupancy, pricing and revenue gains in recent weeks, relative to a year ago.
Improving Picture
Full September data was not yet available, but figures from Smith Travel Research indicated that the San Diego hotel market's year-to-date occupancy rate at the end of August stood at 69.5 percent, up 5.9 percent from a year ago.
Data showed the average daily room rate at $123.86, down 3.9 percent from the first eight months of 2009, but revenue per available room, at $86.09, was up 1.8 percent.
Reay noted that during the past three months, San Diego's revenue per available room rose a cumulative 10 percent, an indication that discounting is not playing as large a role in local performance as it did earlier this year.
For the week ending Oct. 2, Smith Travel reported, San Diego's occupancy rate was 67.4 percent, up 11 percent from the same period a year ago; while the average daily room rate was $121.44 (up 4.5 percent) and revenue per available room was $81.87, up 16 percent.
Those recent trends have hoteliers encouraged that the local hospitality numbers are moving up from the bottom, and a recovery has taken hold.
Ray Warren, general manager of downtown's San Diego Marriott Hotel & Marina, pointed to an uptick in short-term group business bookings compared with a year ago."We've got good convention business booked for October and November, and that bodes well," Warren said.
He expects that momentum will carry into mid-December, before the region sees its usual seasonal lull in business travel, then continue after the holidays into the first quarter of 2011.