PROJECTS, DEVELOPMENTS AND OTHER ACTIVITY IN CITIES IN AND AROUND SAN DIEGO COUNTY
Real Estate Roundup
Monday, October 11, 2010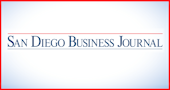 San Diego — CityMark Gets Ready to Build Homes in Leucadia
Best known for its mixed-use condominium projects in downtown San Diego's East Village and Little Italy neighborhoods, CityMark Development is set to begin construction on Beacons, a new residential community in coastal North County.
CityMark recently purchased an infill parcel west of U.S. Highway 101 on Daphne Street in Leucadia and has approved plans to build 10 single-family homes just blocks away from the popular surfing and swimming beach known among locals as Beacon's Beach.
Grading is expected to begin this month on the now vacant site that, by summer, will be home to the tree-lined, cul-de-sac community of semicustom residences.
Designed by The McKinley Associates, the two-story homes will range in size from 1,950 to 3,200 square feet and each features a distinct architectural style.
According to Russ Haley, vice president of CityMark Development, home sales are expected to begin early next year with prices tentatively starting from the low $900,000s.
This is the perfect niche product for an underutilized infill site," said Haley, emphasizing the extra attention given to design detail to ensure that the new development fits the neighborhood's existing coastal context.
 Beacons will appeal to homebuyers who enjoy the area's casual beach lifestyle and a family-friendly village atmosphere that includes an eclectic array of shops, restaurants and entertainment venues within easy walking distance, he said.
As a San Diego-based development company with an experienced local leadership team, CityMark has always focused on "niche communities in vibrant urban settings with a strong walkability lifestyle," Haley said.
"The detached single-family development of Beacons fits that mold perfectly," he said.
 Its sister company, CityMark Construction, is the general contractor and construction financing is being provided by California Bank & Trust. 
"It has been four years since we broke ground on our last project, so we are very excited to be putting our hard hats back on," Haley said.
 CityMark is working on other deals, he said, "running the gamut from permit-ready to long-term entitlement projects."
"We're able to leverage our local expertise with our strong financial backing to make things happen now," Haley said. "The reality is once the market heats up, there won't be a supply to feed it."
CityMark Development is an urban mixed-use developer of housing and retail that also specializes in developer fee services, customer service oversight, building engineering and property management.
Established in 2000, CityMark Development has completed such high-profile, mixed-use developments as doma, M2i, The Egyptian, Fahrenheit and Aperture. For more information about CityMark Development and its projects, visit
citymark.com.
Brookfield Offers Spacious Floor Plans at Mahogany
Mahogany at Old Creek Ranch in San Marcos now has several Plan 2 homes ready for immediate occupancy.
The Plan 2 has 3,533 square feet with four bedrooms, bonus room, 3.5 baths and a two-car garage with a large storage area. Prices for the two-story homes featuring a downstairs master bedroom suite start at $644,900, according to the builder Brookfield Homes.
"Mahogany provides prospective homebuyers an excellent opportunity right now," said Lora Heramb, vice president of sales and marketing for Brookfield Homes. "Incentive dollars from Brookfield may be used to upgrade flooring and window treatments or to pay closing costs. Record low interest rates also contribute to the extraordinary value."
Featuring desirable home sites, including a corner lot and one with a view, the Plan 2 homes now selling at Mahogany include front and backyard landscaping, granite kitchen countertops, stainless steel appliances, including double ovens, and a host of other features.
"The bottom line is you get more for your money at Mahogany, especially with homes available for immediate move-in," Heramb said.
Currently there is one Plan 3 home available for 30-day move-in. This turnkey residence is priced at $649,900. The two-story home comes with upgraded flooring and window treatments, installed front and backyard landscaping, and builder incentives to be used toward closing costs. This move-in ready Plan 3 home has 3,556 square feet, four bedrooms and four bathrooms.
In addition to incentives, Brookfield Homes currently offers a $5,000 referral to anyone who refers a person who buys a home from Brookfield.
In order for a person to receive the $5,000: The referral must be first-time visitor to the Brookfield community; the buyer must purchase before Dec. 31; and the buyer must close escrow. The referred buyer will receive $10,000 in credit toward closing costs, options and/or upgrades. If the referred buyer is already working with a real estate agent, the real estate agent cannot be involved in the transaction and cannot be paid a real estate commission. This referral fee cannot be combined with a broker fee. For additional details about the referral and incentive program, visit brookfieldsd.com.
Mahogany also features a single-story floor plan, one of the most requested by new homebuyers. Plan 5 is spaciously laid out featuring three or four bedrooms and three bathrooms. The home has a great room, large kitchen with plenty of cabinets and countertop space. The best-seller has been sold out until recently. Now, one single-story house is available at $594,900.
Real Estate Firms Team Up To Market Loft Communities
Intracorp Cos., a real estate development firm with offices throughout the West, and ST Residential, a nationwide real estate asset ownership and management company specializing in luxury condominium properties, have joined forces to market a collection of distinctive loft communities in San Diego and Marina del Rey.
In San Diego, the companies will market Metro Lofts, a group of five communities spread out over two of San Diego's most vibrant neighborhoods: the East Village/Petco Park area and Little Italy's art/design district.
With a total of 58 units for sale, the properties offer floor plans designed by award-winning architect Jonathan Segal and feature low-rise, low-density living with an urban, industrial flavor. Sales are scheduled to begin in November. For more information on the developments, visit metroloftssandiego.com.
In Marina del Rey, Intracorp and ST will team up on the marketing of Gallery Lofts, a four-story, 100-unit loft community in the Marina del Rey Arts District. Comprised of seven buildings coupled together in a U-shape design, the development features a steel, concrete and glass exterior. Sales are set for March for these lofts in an eclectic and up-and-coming neighborhood.
"Together, these communities promise to appeal to a broad spectrum of homebuyers who are attracted by the convenience and contemporary style of urban living," said Peter Lauener, regional president of Intracorp. "By combining the extensive development, marketing and sales experience of Intracorp with the financial strength and reputation of ST Residential, we are ideally positioned to play a leadership role in the resurgence of the urban residential market in two Southern California cities."
Intracorp is a family of five privately held, independent companies operating from a common philosophy and financial discipline backed by long-term experience. Two of the five are real estate development companies based in Seattle and California. The others are Intracorp Capital L.L.C., which functions as a private investment firm that acquires or recapitalizes profitable, private companies; Intracorp Properties, a private investment partnership; and Intracorp Realty Advisors, a full-service real estate firm focused on maximizing the value of real estate assets and portfolios. 
ST Residential is the managing member of a public-private partnership between the Federal Deposit Insurance Corp. and a consortium of private equity investors, including Starwood Capital Group, TPG, Perry Capital and WLR LeFrak. ST is managing its portfolio with a high level of detail while also enhancing the portfolio with amenities and services suited for the communities they serve.