HOSPITALITY: CONTEST HIGHLIGHTS NEED TO EXPAND THE CONVENTION CENTER
It's Super News: Comic-Con Stays Put Until 2015
Monday, October 11, 2010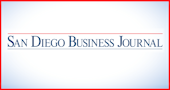 San Diego — Convention and hotel leaders reacted with celebration and relief after Comic-Con International organizers decided to keep the massive pop-culture convention in San Diego through at least 2015.
Organizers announced Sept. 30 that the wildly popular event, which consistently draws more than 125,000 attendees each year to the San Diego Convention Center, would be staying in the city it's called home since its 1970 inception.
Convention center officials said the brush with a possible Comic-Con departure — after Anaheim and Los Angeles bid aggressively to host it starting in 2013 — underscores the need to move forward with a long-discussed center expansion.
Officials estimate the event's exit would have cost the San Diego region nearly $163 million in annual economic impact, including more than $67 million in direct spending by Comic-Con attendees.
"San Diego beat out some stiff competition, and the importance of expanding the convention center has been clearly demonstrated," said Bob Nelson, board chairman of the San Diego Convention Center Corp., which runs the facility.
"We know that some of the largest events have run out of room at the convention center, while some like Comic-Con have already reached their capacity," Nelson said during an Oct. 1 news conference at the center.
Facility operators are still working out financing details for what would be a $750 million expansion of the convention center. By the end of October, officials will be selecting the proposed project's architectural designers, after considering concepts submitted by four teams.
For the past few months, the locally based nonprofit organization that runs Comic-Con has been reviewing formal convention proposals from the three competing cities. The current pact with the San Diego facility expires after the 2012 event, and Comic-Con organizers sought to address concerns including event space and the availability of affordable hotel rooms near the convention center.
Arduous Decision
David Glanzer, Comic-Con's marketing director, said organizers had originally intended to decide on the 2013-15 venue by the end of April, then June, before delaying it to late July, intending to make an announcement shortly after this year's Comic-Con concluded.
As it turned out, deliberations continued right up to the day the group's decision was announced, as the three cities responded to questions and revised their proposals in recent weeks, on issues including hotel rates and the size of room blocks to be set aside for the convention.
"All of the cities' proposals were extremely well thought out and very competitive," said Glanzer. "In the end, we feel this decision is the best for all those who attend Comic-Con and for the organization itself.
"We are happy that the community has worked with us to ensure that we remain here," he said of San Diego.
While the three cities' exact proposals have not been disclosed, local officials have said San Diego's included an offer to Comic-Con of $100,000 per year for five years — 2011 through 2015 — to help it defray the costs of shuttling visitors between convention events held at various downtown locations. That offer would apply only if Comic-Con signed on to stay in San Diego through 2015.
The city's proposal also included a doubling of available hotel rooms countywide earmarked for Comic-Con participants, from 7,000 to 14,000, during the four days of the convention.
Celebration of Pop Culture
Comic-Con started as a niche gathering geared to comic book devotees, drawing about 300 people in its first year at the local The US Grant hotel. Over the years, the event has boomed into a globally known celebration of pop culture across all media.
San Diego officials estimate that with worldwide media representatives factored in, the 2010 Comic-Con in July drew more than 130,000 to the convention center and neighboring hotels that hosted conference events.
According to a study commissioned by the convention center corporation using 2008 data, more than half of Comic-Con attendees stay in hotels, making for an estimated 126,000 hotel room nights at an average rate of $199.
The study found spending on hotel rooms alone during the four-day event was $25 million, which translates into more than $2.6 million in hotel room taxes. In addition, Comic-Con attendees generated $147,000 in sales tax revenue at stores, restaurants and local attractions.
Joseph Terzi, president and chief executive officer of the San Diego Convention & Visitors Bureau, said local hotels consistently garner some of the highest occupancy and room rates of the year when Comic-Con is in town, making it a crucial generator for the entire hospitality industry.
"It's a terrific decision for our community and the economic health of San Diego," Terzi said of the venue announcement.
Flanked at the convention center press conference by costumed Spider-Man and Wonder Woman mascots, San Diego Mayor Jerry Sanders said Comic-Con's regional economic impact compares closely with "hosting a Super Bowl every year."