INSURANCE: INITIAL REVENUE LOSSES EXPECTED AS CHANGES IMPLEMENTED
Hospitals Prepare for Their Role in Health Care Reforms
Monday, October 11, 2010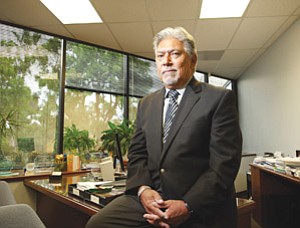 San Diego — Whether the overhaul of the nation's health care system is eventually considered a success five years out will be determined to a large extent by what happens inside the nation's hospitals, clinics and doctors' offices.
That's according to Steven Escoboza, president and chief executive officer of the Hospital Association of San Diego and Imperial Counties, who believes hospitals — despite the prospect of declining revenue once reform is in effect — are fairly well-positioned as businesses to adapt to the new law.
But it will be years before they are going to see the benefit on the revenue side from more people being insured, said Escoboza, who leads a nonprofit trade association representing 33 hospitals and health systems.
Regardless of size and operational expenses — 55 percent of which are typically labor costs — local hospital systems are gearing up and planning along similar lines, Escoboza said.
In San Diego County, the hospital industry encompasses nonprofit institutions with huge market share, such as Sharp HealthCare, Scripps Health and Palomar Pomerado Health, an integrated system such as Kaiser Permanente, which is both an insurer and a provider of health care; military hospitals; the Veterans Affairs San Diego Medical Center; and independent surgery centers.
"Working in their favor is the fact that hospitals, especially the larger ones, are long-range planners" as business entities, Escoboza said, with five- and 10-year strategic plans they update annually in response to market forces dictated by insurers and the economy.
"Reform notwithstanding, they really have to be nimble and not be caught with their guard down," Escoboza said.
Preparing for Far-Reaching Reforms
He said most local hospitals have been anticipating something happening in terms of far-reaching health care reform for a while, adding that hospitals have the resources to prepare better than some of the other players in the health care system.
"But that doesn't mean it's going to go off without a hitch or two," said Escoboza, referring to a 2,000-page document passed by Congress earlier this year called the Patient Protection and Affordable Care Act, which will be implemented over a 10-year period. The law, which expands health care coverage to 31 million currently uninsured Americans through a combination of cost controls, subsidies and mandates, generated strong opposition and continues to be controversial.
On the surface, it appears that hospitals have little to fear. The number of newly insured is expected to decrease significantly the amount that hospitals now lose each year when they provide care to people with no means to pay for the services.
In terms of coverage expansion, tens of millions of Americans could be in the system by 2014, which translates to 500,000 to 750,000 people in San Diego County becoming insured, Escoboza said.
That doesn't mean there will be immediate pent-up demand with patients surging into doctors' offices and hospital surgical suites, he added.
But the expanded enrollments in the low-income Medicaid program could be a mixed blessing, local hospital executives say, because Medicaid typically pays hospitals less than the actual cost of care.
Offsetting Cost Increases
For their part, the nation's hospitals agreed to help defray the costs of the law by agreeing to contribute $155 billion over 10 years, largely by accepting lower payments under the Medicare program for older Americans.
From Escoboza's perspective, hospital administrators face four key themes as they adjust their business models. These include greater cost containment, improved information technology approaches, better clinical integration with physician groups, and quality improvement measures related to patient health.
Escoboza believes doctors and hospitals will need to cooperate more closely as the law is implemented. He sees hospitals already forging formal alliances with physician groups and appointing more practicing physicians to their boards of directors and policy teams.
In terms of adjusting business models, one hospital CEO said he's bracing himself for big changes, but believes they will be incremental.
"A lot of the actual implementation of the law relative to hospital systems is left to various federal agencies to still decide," said Michael Covert, chief executive officer of Palomar Pomerado Health, the state's largest health care district serving 800 square miles in inland North County.
"Their interpretations will be significant on how it all plays out," said Covert.
Insurance and Legal Adjustments
He said Southern California hospital systems are better positioned to implement changes once they're finalized. Because of skyrocketing health care inflation in the 1970s and 1980s, hospitals in the region dealt with the advent of managed care earlier than other parts of the country and adjusted accordingly.
As such, they are well-versed in dealing with the accountability measures dictated by insurers and lawmakers.
Health reform notwithstanding, one hospital CEO predicts that hospitals and doctors will pay roughly one-third of the cost of reform, mostly due to declining federal reimbursements and private insurers demanding rate reductions.
Hospitals aren't going to see the benefit of the newly insured for nearly four years. But they're going to start seeing the costs.
Beginning in 2014, it could be "in the tens of millions of dollars" of lost revenue to local hospitals and doctors, said Chris Van Gorder, CEO of Scripps Health, a 13,000-employee nonprofit health care system that operates five local hospitals.
Despite a reduction in revenue, Van Gorder doesn't anticipate staff reductions in the future at Scripps, which reported revenues of $2.2 billion last year.
"We've identified ways of restructuring the company, but not at the expense of sacrificing staff and quality of care," said Van Gorder. "Medicine is always changing. Technology is always changing. Funding mechanisms are changing. And now we're seeing this tectonic shift in health care.
"We'll make these adjustments, but not at the expense of our doctors, employees and patients," he added.
Aiming at a Moving Target
An executive at Sharp HealthCare, a $2.1 billion nonprofit that operates five hospitals in San Diego County, said the management team is still examining the legislation to assess its consequences.
"It's still a little bit of a moving target with lots of unknowns," said Mike Murphy, Sharp's chief executive officer. "Some of what's proposed is consistent with what we are already doing," he added, referring to efforts to facilitate better coordination of care with medical groups the hospital system contracts with and tracking quality measures mandated by funders and lawmakers.
From a capacity standpoint, he said Sharp is "very pleased" with the investments made over the past 10 years, referring to hospital construction and expansion and medical equipment investments.
Another big change coming will be less utilization of hospital emergency rooms by the uninsured. In the future, the theory goes, more people will be accessing preventive and routine care.
"Doctors will be a lot busier" as a result of the newly insured, said Murphy.
"We'll probably see some spinoff in diagnostics and admissions, but probably not as dramatic as people think," he said. "The goal of health care reform is to get many of the uninsured and underinsured connected to primary care, so they don't end up in an acute-care setting like hospitals."