Company Purchases Troubled Downtown High-Rise for $200M
Monday, October 11, 2010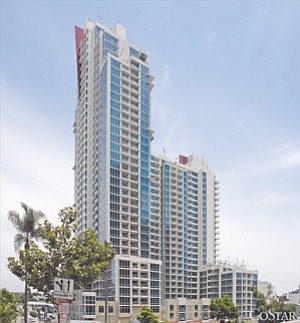 San Diego — Equity Residential, one of the nation's largest owners of apartment buildings, has acquired downtown San Diego's troubled Vantage Pointe high-rise for $200 million.
The 40-story Vantage Pointe, built by the Canadian developer Pointe of View at 1281 Ninth Ave., was originally planned as 679 for-sale condominiums. But as it was completed last year, it met extremely slow sales in a market that was very unfriendly to downtown condos.
The developer decided to offer units as rentals as it returned deposits to numerous prospective condominium buyers. But the project's problems increased earlier this year when the developer defaulted on a $210 million construction loan.
Equity Residential spokesman Marty McKenna said the Chicago-based company acquired Vantage Pointe by paying off all pending loans. The property was about 22 percent occupied, and the company has embarked on a comprehensive marketing and leasing effort to get it filled as a rental property.
This is not Equity's largest San Diego property, but its first local downtown high-rise. It now owns and operates 14 San Diego County apartment complexes, including the 1,410-unit La Mirage overlooking Mission Valley.
"This has always been an attractive market for us," McKenna said, noting the company had been looking to boost its holdings in the region.
In a Sept. 28 statement, Equity Residential said it expects to see a yield of 7 percent on its latest investment within three years. "The acquisition of Vantage Pointe is another example of the opportunities we have seized this year to add high-quality, well-located assets to our portfolio at prices well below replacement cost," said David J. Neithercut, Equity Residential's president and chief executive officer.
As an example, he pointed to the purchase earlier this year of a 559-unit Washington, D.C., property, called 425 Mass, as a similar case of how the company has been "able to tackle large, complex deals" involving developments that are currently struggling.
Nationwide, the company reports investments in 479 properties with 134,484 apartments.
• • •
Local Firms Add to Holdings: Locally based companies have also been adding to their property portfolios recently. Two have made new acquisitions in Northern California.
OliverMcMillan, a San Diego-based firm that develops mixed-use projects, is the new owner of Landmark Plaza, a 95-unit luxury midrise condominium project in Daly City, located in the San Francisco Bay Area. The acquisition cost was approximately $28 million.
Construction stopped last year after the project's original developer, Landmark Plaza-Daly City LLC, defaulted on a construction loan. Cathay Bank foreclosed on the six-story property earlier this year, and OliverMcMillan purchased it directly from the bank, the company said in a Sept. 29 statement.
The purchase follows OliverMcMillan's recently completed acquisition of Pacifica, a 489-unit, 48-story condo project in Honolulu that was previously stalled by financing issues.
In Stockton, San Diego-based Excel Trust Inc. is the new owner of Park West Place. The retail-focused real estate investment trust said Sept. 28 it has signed a contract to purchase the 739,234-square-foot shopping center for $92.5 million.
The property near Interstate 5 was built in 2004 and is 99 percent leased, with anchors including Lowe's, Target and Kohl's.
Prior to the Stockton deal, Excel had purchased 15 properties throughout the nation for a total of more than $170 million. The REIT had its initial public offering in April.
• • •
REIT Closes on Public Offering: Another retail-oriented REIT, the Escondido-based Realty Income Corp., recently closed on a public offering of 6.2 million shares of common stock. The offering netted $196.6 million, the company announced Sept. 28.
• • •
Bettie Page Coming to Gaslamp: Those who aspire to look like 1950s-era fashion model and actress Bettie Page will have a chance to pick up Page-inspired clothing and accessories at a new San Diego store.
Cushman & Wakefield's Urban Property Group reports that Bettie Page Clothing, which currently has only four U.S. retail stores, has signed a 10-year lease to locate a new Bettie Page Boutique in downtown's Gaslamp Quarter by year's end.
The 3,757-square-foot store will be at 430 Fifth Ave., Suite 103, in the development known as Gaslamp City Square. According to Cushman, the boutique will also feature an adjoining upscale tattoo parlor.
• • •
Carmel Mountain Office Building Sold: Local investment firm Cal Sorrento Ltd. is the new owner of a Carmel Mountain Ranch office building, which it purchased for $5.4 million from Robert Smoker Trust.
Send commercial real estate and development news of general local interest to Lou Hirsh via e-mail at lhirsh@sdbj.com. He can be reached at 858-277-8904.