TECHNOLOGY: NORTHROP, BELL JOIN FORCES TO MAKE UNMANNED AIRCRAFT
Cargo Helicopter Won't Carry a Pilot
Monday, October 11, 2010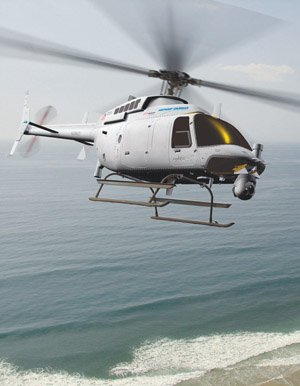 San Diego — After seven years of development on Fire Scout, an unmanned helicopter project that has grabbed the interest of the U.S. Navy, Northrop Grumman is attempting to make a bigger autonomous flying machine, teaming up with airframe maker Bell Helicopter Textron Inc.
The Bell-Northrop project is called Fire-X.
The prototype machine is being constructed at Bell's Xworkx prototyping facility in Fort Worth, Texas, with the help of engineers in Rancho Bernardo. San Diego is the center of Northrop's unmanned aircraft expertise.
Northrop and Bell are paying for the prototype. Northrop has market research showing that this is what the U.S. military wants, said Jim Zortman, sector vice president for life cycle logistics and support at Northrop Grumman Aerospace Systems.
"It can take cargo into the thick of battle without imperiling a large helicopter and crew," said Bob Davis, Northrop's director of business development for advanced concepts, air and land.
The Fire-X helicopter will be able to lift some 3,000 pounds of cargo in a sling. Cargo will also be able to ride on the inside of the aircraft, provided it fits within 60 cubic feet.
The military might also want to use Fire-X as it does Fire Scout, loading it with sensors for reconnaissance. The Navy plans to put Fire Scout aboard its new fleet of shallow water craft, the littoral combat ships.
Local Crew Develops Fire-X
Northrop has 35 people at its San Diego facility working on the Fire-X project, said Zortman, though Fire-X occupies part of their time. In some cases, he said, the unmanned helicopter experts work on Northrop's original Fire Scout during the morning and the Fire-X project in the afternoons.
At 6,000 pounds maximum gross takeoff weight, Fire-X is about twice as heavy as Fire Scout. Essentially, Fire-X is a Bell model 407 helicopter with Fire Scout hardware and software running it.
Bell has produced more than 1,000 of its model 407 helicopters since 1996. The model has flown 2.5 million hours.
One advantage of going to market with the product is there are spare parts and repair facilities around the world, Davis said.
Since the Pentagon seems to be losing patience with the fact that different unmanned vehicles have different ground control stations, Fire-X is being designed to operate using a common ground control station.
Making Progress
Two weeks ago, Northrop and Bell announced that a joint team had spent four months integrating the Bell helicopter and Northrop electronics. In mid-September, the team reached a milestone of sending electrical power through the helicopter's systems.
The Fire-X will start flying in a few weeks, said Davis. Initial flights will have a pilot aboard.
Davis said Northrop is in discussions with the U.S. Army, U.S. Marine Corps and U.S. Navy about Fire-X.
Asked about the market for such a helicopter, defense analyst John Pike said that "the trend all along has been that bigger is better." Pike is director of GlobalSecurity.org, a publisher of defense information based in Alexandria, Va.
Northrop and Bell are not the only companies pursuing the unmanned helicopter. The skies are crowded.
Lockheed Martin Corp. and Kaman Aerospace Group, a unit of Connecticut-based Kaman Aerospace Corp., are at work on Kaman's K-MAX unmanned cargo-delivery helicopter. Kaman claims it can lift up to 6,000 pounds. The team demonstrated the K-MAX's capabilities in February at the U.S. Army's Dugway Proving Ground in Utah.
Boeing has its A160 Hummingbird model. The manufacturer says the helicopter has a 6,500-pound gross takeoff weight and can carry a payload of 2,500 pounds.
However, defense contracting can be a strange world where competitors on one project are partners in another.
Northrop's partner on the Fire-X, Bell, is a partner with Boeing in producing the V-22 Osprey.
The hybrid aircraft, which takes off like a helicopter and flies like an airplane, is based at Marine Corps Air Station Miramar and is just now showing up in the San Diego skies.