RETAIL: DEFENSE-RELATED TENANTS AT LIBERTY STATION ARE CLOSE TO SPAWAR
Military Still Has a Presence at Former NTC
Monday, October 4, 2010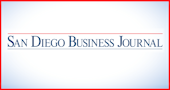 Thirteen years after the Defense Department officially ceased operations there, the sprawling San Diego property once known as Naval Training Center retains significant ties to the military.
Of the more than 140 office, retail and nonprofit tenants that have located at the mixed-used development, now called Liberty Station, more than 20 are geared to the defense, aerospace and related tech-oriented industries.
Joe Haeussler, a senior vice president with project developer and manager McMillin Commercial, noted that a key factor attracting those military-oriented entities is the former base's close proximity to the U.S. Navy's Space and Naval Warfare Systems Command.
Also known as Spawar, it procures high-end technology and services for the naval fleet and other armed forces. For some Liberty Station tenants, being less than five miles from Spawar's local offices is a must.
"I've been told there are times when they need to get over there within an hour or so if they're called into a meeting at Spawar," Haeussler said.
Prominent defense-related firms establishing Liberty Station offices in recent years have included BAE Systems, Cubic Corp., Rockwell Collins Inc. and Boeing.
Also at Liberty Station are defense software provider FGM Inc., tech consulting firm Forward Slope Inc., and assorted engineering and construction services providers including Gnostech Inc. and Sullivan International Group.
In addition, there are nonprofit organizations tied to military and technology matters, such as The Mitre Corp. and The Security Network.
Calls to several defense-related firms located at Liberty Station were not returned.
City Acquires Naval Property
The 361-acre Liberty Station mixed-use community is part of a larger expanse, of nearly 550 acres, that housed naval personnel and training facilities for much of the 20th century. After the military ceased formal operations there in April 1997, the property was acquired incrementally by the city of San Diego.
It has since been jointly developed by the city's redevelopment agency and its designated master developer, the locally based The Corky McMillin Cos. It now has 125 acres of completed parks and open space, retail stores and restaurants, a nine-hole golf course and six schools, and about 350 families reside in the development's communities of newly built small homes and condos.
Two of three planned hotels are now operating on the property's western coastal edge — a Courtyard by Marriott and a Homewood Suites by Hilton — although financing and other economic issues have delayed development of the third hotel.
A nonprofit organization, NTC Foundation, is developing the property's arts and cultural district, where several museums, dance studios and related programs are up and running.
Although figures are not available on what's been generated to date, the city has projected that by the time the former base land is fully built out, the redevelopment will generate more than 8,000 permanent jobs, $215 million in property tax increments and nearly $6 million in annual hotel taxes.
Redevelopment officials estimate more than $130 million in private funds have been invested into infrastructure improvements in and near the project area. More than $120 million in private funds have been spent restoring historic structures, many of which are still owned by the city.
Development Makes Progress
Libby Day, a project manager with the city of San Diego's redevelopment agency, said the economy's ups and downs have presented challenges to carrying out renovation of the former base since its closing. However, there has been significant progress in the past five years, starting with the development of office buildings and housing.
That was followed most recently by the arrival of several retailers and restaurants, including Vons, Trader Joe's, Panera Bread and Starbucks Corp.
"It's making pretty good progress, especially on the northern end," Day said of the overall base makeover.
In addition to the military-focused companies in its offices, Day noted that a large contingent of military families live in newly built housing on the site, helping to support merchants and cultural programs there. In addition, some employees of the various on-site businesses have chosen to buy homes in the development.
"They like the fact that all of those stores and other things are within walking distance," Day said.
Mark McMillin, president and chief executive officer of The Corky McMillin Cos., said master developers have had to abide by strict California Coastal Commission guidelines before certain elements could proceed. The city and developers also continue to address concerns raised through the years by residents and preservationists over how to replace or renovate older military buildings on the site.
Overall, however, McMillin said the development has benefited from its proximity to Spawar and other military facilities still in operation. It has also evolved into a popular hub for general community events such as charity races.
"It's really had good success so far," McMillin said.