Regional Report
Monday, November 29, 2010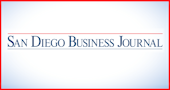 CHULA VISTA
Goodrich's New Air Force Contract Valued at $300M
Goodrich Aerostructures, a unit of Goodrich Corp. that is based here, said it received a contract from Lockheed Martin Corp. to supply 160 pylons for 40 new U.S. Air Force cargo planes called the C-5 Galaxy. The company said its part of the contract is expected to generate $300 million in revenue.
The work, which will be done here and in Goodrich's facility in Foley, Ala., follows an earlier contract with Lockheed for pylons and nacelles (two parts of a jet) for three test planes and nine airplanes in an initial testing phase for the C-5 Galaxy's reliability enhancement and re-engineering program.
— Mike Allen
SAN DIEGO
Cubic Corp. to Purchase Maryland Security Firm
Cubic Corp., the San Diego-based defense contractor and provider of mass-transit fare collection systems, said Nov. 16 that it is buying Abraxas Corp. for $124 million in cash.
Maryland-based Abraxas provides risk mitigation and subject matter expertise to national security, law enforcement and homeland security clients. It produced $60 million in revenue last year, and has 280 employees.
Cubic is buying the services portion of Abraxas. A products division, which includes San Diego-based Anonymizer Inc., isn't part of the transaction that is expected to close next month.
That part of the company is being spun off into a separate business, said spokeswoman Jan Stevens.
With the purchase, Cubic will have about 8,200 employees, including 1,131 at its San Diego headquarters.
— Mike Allen
SAN DIEGO
NextWave Chips Away at Net Loss
San Diego-based NextWave Wireless Inc., which sold its remaining interest in its main subsidiary, PacketVideo Corp., in August for a net profit of $107 million, reported Nov. 10 a third-quarter net loss of $79.7 million, down from the $100.6 million net loss for the like quarter of 2009.
For the nine months ended Oct. 2, NextWave reported a net loss of $154.2 million, compared to a net loss of $238.3 million for the like nine months of last year.
In its securities filing, the company stated its accumulated deficit as of the end of the third quarter was $1.34 billion, compared to an accumulated deficit of $1.19 billion at the end of the third quarter of 2009.
Banished from the Nasdaq in July after its share price dropped below $1, the stock was traded on the Pink Sheets Exchange on Nov. 11 at $1.15, and has ranged from 70 cents to $5.11 during the past 52 weeks.
— Mike Allen
SOLANA BEACH
Biotech Gets Healthy Dose of $67M Grants
A Solana Beach biotech was one of the nearly 200 San Diego County companies recently awarded cash grants from the federal government.
Angstrom Pharmaceuticals Inc. received $244,479 as part of the Therapeutic Discovery Project under the U.S. Patient Protection and Affordable Care Act, which was enacted to help reduce the high costs associated with the nation's health care system by spurring development of new drugs and medical treatments.
Angstrom, which was launched in 1996, is developing a new class of drugs for the treatment of diseases involving cell migration, invasion and metastasis.
Altogether, a total of $67 million was awarded to 188 drug and medical device developers in the San Diego region. Nationwide, the government issued a total of $1 billion to 3,000 small biotechs.
Angstrom, which is located at 990 Highland Drive, Suite 314, has about 10 employees, said a company spokesman.
— Steve Sinovic
ENCINITAS
Energy Firm Invests In Fuel Cells Project
Encinitas-based BioFuels Energy LLC and The New Energy Capital Cleantech Infrastructure Fund announced the financial closing of a $23.5 million investment in what is described as one of the largest integrated fuel cell projects in the U.S.
According to a Nov. 18 press announcement, the project, which includes three fuel cells totaling 4.5 megawatts of generating capacity, will be located on sites owned by UC San Diego and the City of San Diego. The fuel cells will run on renewable biogas produced by an affiliate of BioFuels Energy from wasted methane gas at the City of San Diego Wastewater Treatment Plant.
The facility will employ molten carbonate fuel cells produced by FuelCell Energy of Danbury, Conn. BFE develops renewable energy projects utilizing various biogas sources.
The project will create approximately 15 full-time jobs during the construction period at the city's South Bay Wastewater Treatment Plant and the UCSD campus as well as 50 direct jobs at FuelCell Energy.
"We are grateful to the California Public Utilities Commission and the California Center for Sustainable Energy for providing grant benefits through the California Self-Generation Incentive Program, which have enabled this project to come to fruition," said Ken Frisbie, managing director of BioFuels Energy.
— Steve Sinovic
SAN DIEGO
Sanford-Burnham Receives $1M Pledge
San Diego businessman and philanthropist Arthur Brody has pledged $1 million to the Sanford-Burnham Medical Research Institute to help translate basic science discoveries into new treatments.
According to a Nov. 16 press announcement, the gift creates the Art Brody Innovation Fund, which will advance promising research that might otherwise be stalled due to lack of financial support for the La Jolla-based organization.
Brody is a longtime Sanford-Burnham trustee. He is the president of Brosoar Corp., an investment company based in Rancho Santa Fe.
The fund will be used, in part, to refine early drug candidates, bring in investors and advance new medicines into clinical trials.
"We are extremely grateful for Mr. Brody's support because gifts like this allow breakthroughs in our laboratories to be translated into benefits for those suffering from disease," said John Reed, the institute's chief executive officer. 
— Steve Sinovic
CARLSBAD
Nokia Division Acquires Local Gaming Firm
Carlsbad-based PixelActive Inc., which develops 3-D urban modeling software used in gaming, simulation and navigation applications, has been acquired by Navteq, a wholly owned subsidiary of Nokia.
Chicago-based Navteq provides maps, traffic and location data for navigation and location-based services. A Nov. 17 Navteq statement said the company is not disclosing financial terms of the transaction.
Navteq officials said the acquisition is aimed at expanding Navteq's 3-D capabilities. PixelActive employs 16, and founders Steve Rotenberg and Michael Kelley will stay on with the company to continue their roles in research and development, the statement said.
Navteq has approximately 5,100 employees located in 212 offices in 48 countries.
— Lou Hirsh
SAN DIEGO COUNTY
Scripps, Kaiser Sign Deal to Collaborate
Scripps Health and Kaiser Permanente have signed a 10-year comprehensive agreement for Scripps to provide cardiac surgery, interventional cardiology and bariatric services to more than 500,000 Kaiser members across San Diego County.
Financial details in the Nov. 9 press announcement were not disclosed.
Scripps also will provide hospital services to Kaiser members transferred to a Scripps facility or who are treated in a Scripps emergency department.
"This agreement extends our close working partnership that has been built over the past 30 years around quality medical management and patient satisfaction," said Scripps President and CEO Chris Van Gorder.
"Through this new agreement, we look forward to even greater opportunities to provide innovative, leading-edge cardiovascular health care," said Mary Ann Barnes, senior vice president and executive director for Kaiser Permanente San Diego.
Scripps will break ground next year on an eight-story, 383,000-square-foot hospital tower on the campus of Scripps Memorial Hospital La Jolla. The new tower, estimated to cost $398 million, will serve as the hub of the Scripps Cardiovascular Institute, which will combine the cardiovascular programs of Kaiser Permanente, Scripps La Jolla and Scripps Green Hospital.
Scripps said it provided cardiovascular care to more than 45,000 patients last year.
— Steve Sinovic
VISTA
Glacier Water's Income $1.7M for the Quarter
Glacier Water reported third-quarter net income of $1.7 million on revenue of $28.3 million compared to net income of $2.2 million on revenue of $29.8 million for the like quarter of 2009.
The company that has 18,700 water-dispensing machines in 42 states said below-average temperatures in the West and Southwest during the quarter contributed to the lower sales.
Glacier said it added 700 machines to its network during the year.
— Mike Allen
SANTEE
City Clears Way for Offices, Car Wash
The Santee City Council has approved a conditional use permit allowing for construction of a proposed car wash and office building at 10055 Mission Gorge Road. The item was approved at the council's Nov. 10 meeting.
According to a city staff report, the project by developer Five Star Synergy Inc., based in Buena Park, includes a two-story, 8,800-square-foot office and retail building; a 4,400-square-foot automated drive-through car wash; and a 3,200-square-foot drive-through fast-food restaurant. Tenants have not been finalized.
— Lou Hirsh
VISTA
Property Purchases Set Stage For Downtown Upgrades
The city's Redevelopment Agency approved purchasing three lots along South Santa Fe Avenue for a total of $2.3 million Nov. 9 in a 4-0 vote as part of an ongoing plan to improve its downtown and create more private investment.
Funding for the purchases comes from $36 million in bonds the city issued earlier this year to pay for property acquisition for an area to be called the Paseo Santa Fe Corridor.
The City Council, which sits as the redevelopment board, also approved an extension to the owners of the Sonic Drive-In on South Santa Fe on debt the fast-food restaurant owes the city.
— Mike Allen