ENTREPRENEUR: TED VALLAS PLANS UPSTART CALIFORNIA PACIFIC AIRLINES
New Airline Could Begin Flying In March at McClellan-Palomar
Monday, November 29, 2010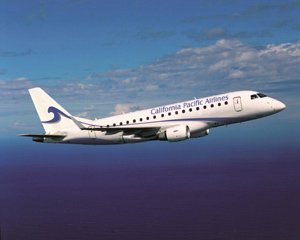 A new regional airline is about to take flight from the 51-year-old, 480-acre-plus McClellan-Palomar Airport in Carlsbad, while residential neighbors and the airport continue their squabble over noise and what can be done to reduce it.
To be sure, the big news these days at McClellan-Palomar is the pending launch of Ted Vallas' upstart California Pacific Airlines, a regional carrier that will serve five cities in the West in its first phase of operations.
Vallas said he's down to the last two steps involving Federal Aviation Administration approval before he can start commercial service in mid-March.
He's excited about what the new service will bring to Carlsbad at a cost of more than $10 million, but counting.
"We'll be a great boon for the airport, and the community" said Vallas, who has held the approval permits for the project since 1980.
Schedule of Flights
The airline will fly to Oakland, Sacramento and San Jose, plus Las Vegas and Phoenix, and include seasonal service to Cabo San Lucas in Baja California, Mexico. Later, Vallas said he would add Salt Lake City, Seattle and Vancouver, British Columbia, to the flight schedule.
The airline will use McClellan-Palomar's up-to-date air terminal, which re-opened in January 2009 after a $24 million remodeling.
Interestingly, the fleet will return to McClellan-Palomar at the end of each day's flights, under the business plan developed by Vallas. He said he can save thousands of dollars by bringing his crew and planes back to the airport.
"We will fly point to point, and then bring the planes back each night," he said. "The plan is very crew friendly."
The 89-year-old Vallas is a veteran entrepreneur, who's been involved in a number of businesses during the course of his career, including an airline that served resorts. He believes that his new venture will be his crowning achievement.
Service Expansion
Vallas' upstart service will greatly expand upon the six commercial flights each weekday provided by United Express, a commuter airline unit of Chicago-based United Air Lines Inc. Those flights connect Carlsbad with Los Angeles International Airport.
Vallas doesn't consider United's service much competition in terms of what he will be doing. "United won't affect us one way or the other."
He's going after the Southwest Airlines Co. customer by saving them the drive to and from San Diego International Airport, aka Lindbergh Field.
Ted Dennis, business development manager for McClellan-Palomar-based charter service Schubach Aviation, said Vallas' dream might work, but cautioned that he's undertaking an extremely costly risk in starting an airline.
He noted that several other regional carriers have attempted service at McClellan-Palomar but pulled out because they couldn't generate sufficient business.
Tom York is a contributing editor for the San Diego Business Journal.