Public Plaza Plan Makes People a Key Part of Horton Plaza Makeover
Monday, November 15, 2010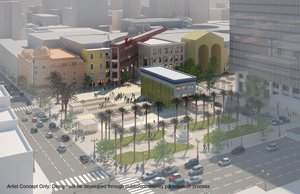 Redevelopment leaders have begun discussions of what would be a $35 million makeover of downtown San Diego's Westfield Horton Plaza.
Westfield Group, which owns the 25-year-old shopping center, has proposed demolishing a 130,000-square-foot building, located at Broadway and Fourth Avenue, which was vacated in 1994 by now-defunct retailer Robinsons-May.
That same building was subsequently home to an ill-fated Planet Hollywood restaurant, which closed in 2001. It remains mostly vacant, though it still has tenants such as Sam Goody and Abercrombie & Fitch.
To replace the structure, Westfield and the city envision a complete renovation of the mall's outskirts, turning it into a tree-lined public plaza that would better complement offerings at the nearby Gaslamp Quarter.
Richard Steets, Westfield's senior executive vice president for corporate development, said that the aim is to meld the retail center with the rest of downtown by creating a pedestrian friendly place where people will want to gather. He said the open space would be akin to public squares seen in cities like New York and San Francisco.
"What we want to do is take a center that's mostly inward looking, and make it so that it looks outward to the Gaslamp," Steets said. "We want to have more interaction between the two."
Westfield would pay the majority of the costs through complex arrangements still being worked out with the city, involving an existing profit-sharing agreement tied to past development at Horton Plaza. The renovation would be aided by about $8 million in funding from the Centre City Development Corp., the city's downtown redevelopment agency also known as CCDC.
According to CCDC, Westfield would also kick in about $1 million for improvements to nonretail elements in the vicinity — the Balboa Theatre and Lyceum theater, as well as a planned homeless shelter.
A CCDC citizens' advisory committee reviewed a preliminary proposal at its Nov. 3 meeting. It will go next to CCDC's board of directors on Nov. 17, before being considered by a San Diego City Council committee in early 2011.
CCDC spokesman Derek Danziger said it could be at least one more year before the plan obtains all necessary city approvals. "There will be many opportunities for public input over the coming year," he said.
Danziger said the city's portion of renovation costs would need to be allocated by 2013, since CCDC's project district that incorporates Horton Plaza is scheduled to expire at that time.
• • •
New U.K. Stop for S.D. Travelers: When British Airways resumes direct daily flights between San Diego and London on June 1, local travelers will notice that a few things have changed since the carrier last offered that service in 2003.
One is the place where they'll be arriving and departing at London Heathrow Airport. The airport's new $8 billion Terminal 5, which opened in March 2008, has a gallery of deluxe restaurant, retail, spa and lounge offerings, as well as its own cinema. Some of its lounges geared to corporate travelers have full shower facilities.
"Our studies have told us that people want to arrive at their destination ready to do business," said Simon Talling-Smith, British Airways' executive vice president in charge of operations in the U.S., Canada and Latin America.
British Airways is the primary tenant of Terminal 5 and footed the bill for much of its construction. "We've invested $100 million just in the lounge areas of Heathrow," Talling-Smith said by phone during a recent visit to Los Angeles.
Unlike with past service, he said San Diego business travelers will also find that each of the Boeing 777 jets has 48 "flatbed" seats which recline 180 degrees, allowing for bedlike comfort during the transatlantic flights.
The airline in October said its revived San Diego-London service stems from a newly launched joint business agreement involving British Airways, American Airlines and Spanish carrier Iberia.
Kevin Burns, a regional director with British Airways, said the airline has already begun selling the San Diego-London flights. By December, it will have a code-sharing system in place that allows local American Airlines frequent flier members to get mileage credit when they take the London flights on British Airways.
• • •
Pitfalls Abound in Hotel World: A double-sided message emerged from a regional lodging conference that took place Nov. 3-4 at Hilton Garden Inn in San Diego. Deep uncertainty exists for hotel operators with debt hanging over their heads, but for those who aren't overleveraged, good times are steadily returning by most key measures, including occupancy.
Alan Reay, president of consulting firm Atlas Hospitality Group, said his firm has noted on several occasions recently that California not only has more than 500 hotels in some stage of default or foreclosure, but also as many as 1,000 more that that could teeter into default. The true extent of the potential carnage is hard to gauge, since lenders continue to delay foreclosure proceedings.
The uncertainty has made it more crucial than ever for buyers to perform their due diligence when considering purchasing a hotel or acquiring its debt. Current owners, special servicers and receivers often can't or won't provide all the details to potential bidders. "Make sure you know what you're buying," said Guy Maisnik, a partner in the law firm Jeffer Mangels Butler & Mitchell LLP.
Local hotel operator and hospitality consultant Robert Rauch, whose firm presented the conference, said past overbuilding and current distress will mean little new construction in the near future. That will help current operators fill their rooms at rising rates, or at least get a better price for their properties if they do decide to sell.
"Those who can survive through 2011 will find 2012 is truly heaven," said Rauch, president of R.A. Rauch & Associates Inc.
Send commercial real estate and development news of general local interest to Lou Hirsh via e-mail at lhirsh@sdbj.com. He can be reached at 858-277-8904.