NONPROFIT: MAGAZINE ALSO HAILS IT FOR ROLE AS AN ECONOMIC DRIVER
Connect Wins National Award For Innovation
Monday, November 1, 2010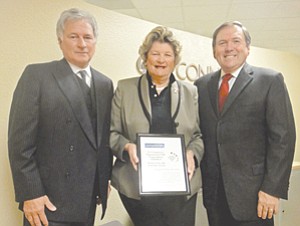 The federal government recently recognized Connect — the local program for nurturing young, technology-based businesses — as a force for economic development.
An arm of the Commerce Department announced Oct. 25 that Connect received one of its Innovation Awards. The homegrown San Diego nonprofit, which celebrated its 25th anniversary this year, is one of four standout economic development organizations from around the nation to get the honor.
"It's a nice recognition for all of San Diego," said Duane Roth, chief executive officer of Connect.
"This is an award for accomplishment — not just for good effort, for trying hard," said Mary Walshok, the UC San Diego administrator who oversaw Connect as a university program for the first 20 years of its life. Connect shed most ties with the university in 2005.
Specifically last week, the U.S. Economic Development Administration presented Connect with an Innovation in Economic Development Award, recognizing it for innovation in regional innovation clusters.
What's a cluster? One government guide defines it as a unique group of companies, suppliers, service providers and research institutions. A pool of workers with specialized knowledge also fits into the picture. According to Connect, San Diego has eight clusters containing thousands of companies. There are 2,000 software companies; 1,000 communications and information technology companies; 600 biomedical and life sciences companies; 750 clean technology companies; 600 action and sport companies; 270 defense companies; and 5,000 outsourcing companies.
The cluster concept has become popular in Washington, D.C., particularly with the Obama administration, Roth reports. "Connect is a name that's very well-known in Washington," he added.
Launching Pad for Discoveries
Connect is a locally created institution first developed by Bill Otterson, who died in 1999. The organization links people who make discoveries in research institutions to sources of capital and mentors in the business world.
Frequently the people who can discover new technologies are not the people who can successfully take them to market. "Connect is kind of in the middle there," said David Hale, who is chairman of Connect, chairman of Hale BioPharma Ventures LLC and chairman of several area biotech companies. Hale is one of the pioneers of San Diego's biotech scene, having been CEO of Hybritech.
Following its founding in 1985, Connect helped pull San Diego out of the economic doldrums and diversify the local economy. Hale recalled coming to town in 1981, when the two biggest employers were tourism and the military.
Today, the technology industry offers well-paying jobs to San Diegans. Some 6 percent of jobs in the area are technology jobs that generate 25 percent of local wages, according to Camille Sobrian Saltman, Connect's chief operating officer.
Separately, Time Magazine spotlighted San Diego and Connect as a model for economic growth.
"The inventive brew that Connect fermented has made San Diego home to a cluster of life sciences and technology companies," Bruce Katz wrote in Time's Oct. 21 edition, citing the local presence of Qualcomm Inc., Biogen Idec, Life Technologies Corp. and Gen-Probe Inc.
Other Award Recipients
Also receiving federal awards last week were the Bluegrass Business Development Partnership of Lexington, Ky., the Pennsylvania Center for Trade Development's Envoy Program of Harrisburg, Pa., and The University of Arizona Tech Park's Solar Zone of Tucson, Ariz.