REAL ESTATE: LUXURY PROPERTY LATEST TO STRUGGLE WITH HEFTY LOAN PAYMENTS
Se San Diego Joins Hundreds of Hotels Falling Into Default
Monday, May 31, 2010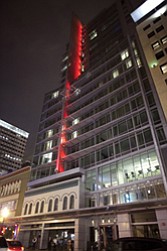 An unfriendly operating climate has taken its toll on another downtown San Diego hotel property — the latest of more than 30 in the region and 400 statewide to enter some stage of default.
Operators of the 184-room Sè San Diego hotel, an upscale boutique property at 1047 Fifth Ave. that opened in 2008, confirm that the hotel's lender, a German bank, has filed a notice of default in connection with a $72.9 million construction loan. Such notice is the initial step in a foreclosure process.
Representatives of 5th Avenue Partners LLC said they would have no comment beyond a prepared statement, which acknowledged the notice given by Westdeutsche Landesbank, better known as WestLB AG, regarding a loan that matured in May 2009.
"Since the loan maturity date, the company has remained in control of hotel operations," the statement said. "Discussions have been ongoing between the company and its lender to extend the term of the loan."
It said the company continues to work with the lender toward an arrangement that would let 5th Avenue Partners continue to control and manage the hotel. No foreclosure sale is set, the statement said.
'Nonjudicial' Foreclosure Initiated
Connie Kain, a New York-based spokeswoman for WestLB AG, said via e-mail on May 25 that a "nonjudicial" foreclosure was initiated in March 2010, but the company had no further news to report.
Sè San Diego, located near the Gaslamp Quarter, is the second prominent downtown hotel to recently face problems paying back loans, after last year's move by operators of the W Hotels San Diego, Sunstone Hotel Investors Inc., to hand the property back to its lenders.
But the problem extends well beyond trendy downtown hotels. According to a first-quarter survey released by research and consulting firm Atlas Hospitality Group in Irvine, there were 34 San Diego County hotels in some stage of default as of March 31, a big jump from just six at the same point in 2009.
In addition, there were six local hotels owned by their lenders after foreclosures, up from three a year earlier. Statewide, there were 327 hotels in default and 79 owned by their lenders at the end of the first quarter.
Atlas Hospitality President Alan Reay said while hotels have seen drops in revenue lessen since the height of the Great Recession, many properties remain in precarious financial positions.
Travelers Seek Budget Rooms
He said business and recreational travelers generally continue to trade down on luxury levels when choosing a hotel, and the only sectors doing exceptionally well in the current climate are budget-priced chains, and midpriced, extended-stay suite hotels, perceived as a value because of their space, food offerings and other amenities.
It could be many more months, or even years, before revenues return to their peak 2007 levels, especially for luxury hotels and resorts.
"The days of the $400-, $500-, $600-a-night rooms are not coming back, at least not anytime soon," Reay said.
He noted the Se competes primarily with hotels such as downtown's Ivy Hotel, which recently became affiliated with Hyatt Corp. and was renamed Andaz San Diego. With nightly rates ranging from around $200 to $300, it is a boutique property that depends largely on young, hip visitors, including those not staying in its rooms, who run up lucrative bar and restaurant tabs — which Reay said haven't yet rebounded from the recession.
According to newly released data from Atlas Hospitality and Smith Travel Research Inc., revenue per average room, or RevPAR, in the San Diego County market for the month of April was down 0.5 percent from April 2009.
Year to date, the San Diego market is down 3 percent in RevPAR compared with the first four months of 2009. San Diego this year has seen lesser declines than California markets, including Anaheim, Palm Springs and Sacramento; but its declines are sharper than those seen in such markets as Newport Beach and Ontario.
The local decline is also sharper than that for California (down 0.1 percent) and the United States as a whole (down 0.6 percent).
The data indicate that several California markets have seen positive year-over-year growth in average room revenue during the first four months of 2010, including Los Angeles (up 2.7 percent), San Francisco (up 2.8 percent), Pasadena/Glendale (up 7.2 percent), and Santa Monica/Marina del Rey (up 13.4 percent).