HEALTH CARE: PALOMAR POMERADO HEALTH TRYING OUT NEXT-GENERATION TOOLS
PPH Tests Latest Technology in Advance of Opening New Facility
Monday, May 31, 2010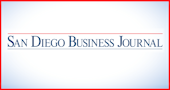 In anticipation of its new Escondido hospital opening in 2012, Palomar Pomerado Health has put roaming "robot doctors" and patient wristband bar-coding systems to the test.
PPH, which operates Palomar Medical Center in Escondido and Pomerado Hospital in Poway, is also studying experimental Band-Aid-like sensors capable of tracking a patient's vital signs remotely. And new communications technologies aim to give nurses a way of tracking down a doctor's preferred means of communication at any one point in time.
Administrators say newer, more automated systems will prepare the hospital for the future of health care delivery, which aims to minimize errors while also reducing readmissions and health care costs.
"There's a big push in the industry to cut down on readmissions and these continuous monitoring technologies could be a part of it," said Orlando Portale, who serves as chief innovation and technology officer at PPH.
One such continuous monitoring technology would allow for patient monitoring of sleep behaviors from home, rather than having to stay overnight at a hospital's sleep lab. Similarly, patients in need of specialty care, but living outside of major metropolitan areas, may be able to connect with a physician in San Diego through videoconferencing technology.
Video Technology
Portale said a yearlong pilot study involving roaming "robot doctors" on lease from InTouch Health of Santa Barbara showed the hospital that it could build a similar, less costly technology on its own.
"There's a lot of video technology now that's available that we could put together these sorts of solutions in each of the rooms," Portale said.
Much of the new technology is still being explored as PPH builds the $917 million Palomar Medical Center West, its third acute-care hospital. PPH spokesman Andy Hoang said last week that the hospital is halfway complete and on schedule.
"Construction is moving quickly, as the campus is really coming to life," he said.
Meanwhile, hospital administrators said they're working to align their staffs with new systems and work environments.

In her role as director of clinical transformation, Joy Gorzeman has been leading teams of nurses to the Escondido site. Unlike nursing systems in place at PMC or Pomerado today, the new hospital aims to have nurses stationed directly outside patient rooms.
Reducing Repetitive Care
It's still unclear whether the new hospital will include acuity-adaptable models first envisioned by PPH administrators in their discussions of the "hospital of the future."
The so-called acuity-adaptable rooms aim to reduce patient hand-offs by being able to transform rooms to suit a patient's needs, whether it's surgical recovery or intensive care. But the model will require state legislators to sign off on it, allowing PPH and as many as four other health care facilities to pilot individual programs.
A measure, known as Assembly Bill 2194, is pending in the state Assembly. It faced earlier challenges in the Assembly Health Committee due to opposition from the Service Employees International Union and more recently from the California Nurses Association.
Nevertheless, Gorzeman, who oversaw the switch from paper to digital medical records while a chief nurse at Tri-City Medical Center five years ago, said new technologies offer a simpler way to conduct everyday operations while reducing repetitive care.
"A lot of the nurses' time has been spent hunting and gathering and that's really what we want to reduce," she said.
PPH, which employs a staff of 3,000, is the state's largest public health care district, covering 800 square miles of inland North County.
In fiscal 2009, PPH had $459.5 million in revenues.