Loss Drops Dramatically At NextWave Wireless
Monday, May 24, 2010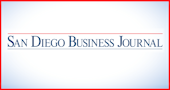 NextWave Wireless Inc., whose main subsidiary is San Diego software firm PacketVideo Corp., reported a first quarter net loss of $3.4 million, compared to a net loss for the like quarter of 2009 of $82.2 million, the company said May 18.
Total revenue for the quarter was $17.9 million compared to $16.9 million in the prior year's first quarter.
The company said it used $7.3 million in cash to fund its operations for the first quarter, and $31.7 million in cash for the same quarter of 2009.
In April, NextWave borrowed $7 million and issued additional 15 percent senior secured notes due July 2011 for the same amount.
According to the latest securities filing, NextWave Wireless has an accumulated deficit of $1.19 billion as of April 3, which includes about $649 million in long-term obligations.
NextWave trades on Nasdaq as WAVE. As of May 20 its 52-week range was 28 cents to $1.45.