REAL ESTATE: VACANCY RATE CLIMBS, LEASING PRICES FALL
Shopping Center Landlords Waiting For Local Retail Market to Improve
Monday, May 10, 2010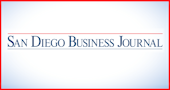 National retail sales trended upward in the first quarter as frugal consumers trickled back into stores and restaurants. But even in San Diego County, ranked by industry observers among the nation's strongest retail markets, shopping center landlords weren't feeling the love.
Reports indicate that the local vacancy rate is now higher, space absorption is negative, and leasing prices have fallen from a year ago. Experts say these trends will likely continue for the rest of 2010, and possibly into 2011, unless local job creation picks up momentum sooner.
In its recently released report covering the first quarter, Voit Real Estate Services said retail center owners will continue to respond to soft demand and rent prices — down 7.8 percent from a year ago — by continuing to offer concessions. Those include free or discounted rent, reduced parking fees, relocation funds and tenant improvement allowances.
While the first-quarter numbers were negative, experts said there are signs in the current market, including increased leasing activity and location scouting by retailers, suggesting that the numbers will improve in the second and third quarters.
"Tenants are at least looking toward the horizon," said Mark Caston, a Voit vice president in San Diego who represents retail tenants and landlords. "It's a lot different from a year ago, when nobody was looking."
March figures released in mid-April by the U.S. Department of Commerce showed total retail sales — which include non-general-merchandise categories such as autos, gasoline stations and restaurants — increased 1.6 percent seasonally adjusted over February and 10 percent unadjusted year-over-year. The improvement was much higher than analysts had anticipated.
Seeking Value
Local observers note much of the local leasing activity, as well as general interest among store operators in setting up locations, reflect consumer habits of the past several months, as they cut household expenses, reduce debt and bolster personal savings.
Nick Alford, director of the retail advisory group at brokerage firm Cushman & Wakefield Inc. in San Diego, says several value-oriented chains are still looking to expand their footprint in San Diego County. Those include discount merchandisers such as Marshalls, Ross Stores Inc., 99 Cent Only Stores and Big Lots Stores Inc., as well as grocers WinCo Foods LLC and regional Hispanic markets.
"It's going to be this way for a while until the consumers are ready to open up their pocketbooks," Alford said.
Most of the better located big-box locations — including those vacated in the past two years by chains such as Circuit City, Mervyns and Wickes Furniture — have been absorbed by other large discount retailers.
A more problematic area is what will become of smaller mom-and-pop stores and restaurants, as many of their owners are still reeling from damage done to their personal finances by the housing crisis that arrived with the recession.
Alford notes that some landlords have given concessions to those businesses to help them stay open, while others are struggling to find replacements when those merchants close.
Making Concessions
Mark Riedy, executive director of the Burnham-Moores Center for Real Estate at USD, says there won't be a significant boost in consumer spending — and in turn, higher demand for retail space — until the local jobs picture improves, along with consumer confidence.
Concessions made to small businesses by landlords should help those businesses become more competitive, but will likely keep rents low for the foreseeable future, Riedy says.
A bigger issue, he notes, is that many consumers no longer have access to home equity lines of credit, which fueled spending before the recession, and credit card companies also have been reducing credit lines. Riedy foresees retail sales remaining flat for the rest of 2010 and possibly into 2011.
Observers note that San Diego County was among the first communities to go into a downturn and will likely be among the first to come out, albeit slowly. The local region did not see homes overbuilt to the same extent that occurred in neighboring regions, including parts of the Inland Empire, Orange County and Los Angeles County.
"We really didn't have the level of new residential building that were seen in some other communities, and retail building generally follows residential," said Caston. "In some of those other places, retail got ahead of residential."
The Numbers
At the end of the first quarter, Voit reported, there was just 156,519 square feet of retail construction under way in San Diego County. That's a product of several forces, including the shrinking availability of land, high land prices and construction costs, and scarce financing. Much of the emphasis has been on filling existing vacancies, especially in infill areas.
San Diego County finished the first quarter with a retail vacancy rate of 5.42 percent, up from 4.54 percent a year ago. The lowest vacancy rates can be found in the Interstate 15 corridor (3.93 percent) and the North City market (4.06 percent), Voit said. The I-15 corridor includes Poway and Rancho Bernardo, while the North City market includes La Jolla and Encinitas.
Net absorption in San Diego County was a negative 104,243 square feet. Completed leasing transactions totaled about 674,000 square feet, down from approximately 801,000 square feet a year ago.
Average lease rates saw a 7.8 percent decline year-over-year, going from $2.05 to $1.89 per square foot.
Tracy Clark, a senior vice president in Voit's San Diego office, says that in some areas of the county such as Eastlake, where a number of new retail centers were built in the last four years, the climate has recently allowed smaller players to get desirable spots that otherwise would have been snapped up by national retailers and restaurant chains. Many of those chains pulled back on expansion in the recession.
"They're seeing lower rents and lower startup costs than they would have seen before," Clark said of locally owned businesses.
In addition to merchants, Caston says he has recently seen an uptick in inquiries from national and regional service-oriented tenants that want to expand into retail centers while lease prices are relatively low. Those include walk-in medical clinics, as well as brokerage firms such as Scottrade.