BIOTECH: SAN DIEGO'S PUBLIC BIOTECHS SEE NET LOSS INCREASE 38 PERCENT, REVENUES RISE
Cost-Cutting Moves Lead to Profitable Year For Biotech Industry
Monday, May 10, 2010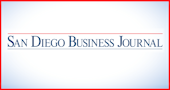 Despite one of the worst financial meltdowns in history, the biotechnology industry achieved collective profitability for the first time last year, according to a recent report.
Biotechnology firms clustered in the U.S., Canada, Europe and Australia drove profits of $3.7 billion last year, far surpassing a 2008 net loss of $1.8 billion. The improvements were largely driven by cost-cutting and efficiency measures, according to Ernst & Young's "Beyond Borders: Global Biotechnology Report 2010."
San Diego is home to many small biotech firms that weathered the storm by cutting both employees and underperforming drug development programs. Companies on the brink of bankruptcy, such as Adventrx Pharmaceuticals, were able to survive the year by reducing their head count to just a couple of key employees.
"We were prepared to wind it down," said Adventrx Chief Executive Officer Brian Culley. "We were able to identify the investors interested in making a bet."
Others fell victim to the economic crisis, coupled with internal troubles. Such was the case for La Jolla Pharmaceutical Co., which saw its lead lupus drug fail in a late-stage trial. The company couldn't muster enough shareholder interest to merge with Adamis Pharmaceuticals Corp., or liquidate, and was eventually delisted from Nasdaq.
Bargain Prices
A few were sold for bargain prices. Metabasis Therapeutics, which offered a drug delivery technology and was partnered with Merck & Co. Inc. on one of its early-stage programs, was sold late last year to Ligand Pharmaceuticals Inc. for $3.2 million in cash.
Excluding Roche and Genentech Inc.'s mega-merger last year, M&A transactions involving U.S. biotechs decreased by half, to $14.1 billion. Only three transactions were valued at more than $1 billion, according to the Ernst & Young report.
San Diego's public biotechs saw their net loss increase 38 percent to $589 million, while revenues rose 49 percent to $5.8 billion from 2008 to 2009. At the end of the year, San Diego firms increased their market capitalization by 36 percent, to $23.6 billion.
Worldwide, public biotech companies raised 42 percent more cash last year, with follow-on offerings accounting for a considerable amount.
A significant portion of the capital raised last year came from established public companies, although some privately held biotechs also found eager investors despite the squeezed capital markets.
Privately held specialty pharmaceutical company Zogenix Inc., which began selling its needle-free migraine treatment in January, was able to raise $71 million last year from a group of venture capitalists.
Challenging Times
Going forward companies will continue to face funding challenges in a constrained financial environment, according to Glen Giovannetti, Ernst & Young's global biotechnology leader.
In what he calls the "new normal" era, Giovannetti said companies will have to get used to discriminating venture capitalists and IPO markets that have largely been closed off to new companies seeking to raise funds from public investors.
"For most companies, it's still an environment of scarcity of capital," he said.
At the same time, Giovannetti said significant investments in biotech made in the boom-era are just beginning to materialize. The Human Genome Project spurred significant interest in individualized medicine, and many of those early investments are just beginning to blossom.
"I think we're at a very exciting time for the science," he said.