REAL ESTATE: TAX CREDITS, RELAXED FINANCING RESTRICTIONS ALSO HELPING MARKET REBOUND
Dwindling Prices, Tight Supply Spark Downtown Home Sales
Monday, May 3, 2010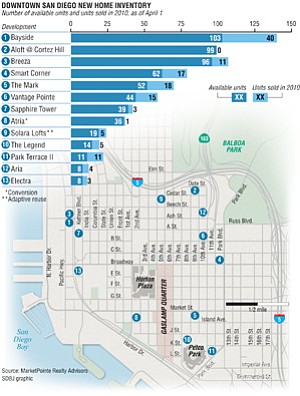 Downtown San Diego home sales started 2010 by continuing a rebound that began in 2009, aided by a combination of lower pricing, tightening supply, low interest rates and government tax credits geared to first-time buyers.
Data from San Diego-based MarketPointe Realty Advisors shows there were 284 new and resale transactions of downtown residential units in the first quarter of 2010. That was up 64 percent from the 173 transactions in the first quarter of 2009.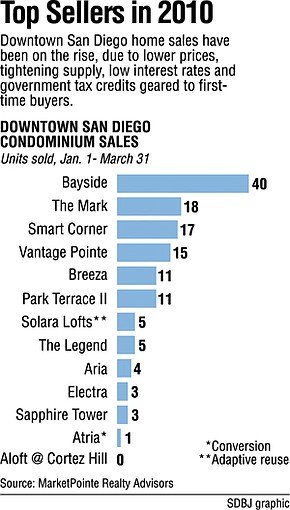 The 133 new downtown homes — primarily condominiums — purchased during the first quarter more than doubled the 52 sold in the same period of 2009. Also, the unsold new-home inventory stood at 591 units at the end of March — down 20 percent from 741 four months earlier.
MarketPointe President and CEO Russ Valone said downtown condo resales have generally held steady for the past two years, at around 150 per quarter. New condos, however, encountered problems in 2007 and 2008 amid a steep price correction that left buyers on the sidelines waiting for the market to bottom out.
Prices are now more in line with what buyers are willing to pay, Valone said, and the supply of new condos coming on the market has dwindled. As demand for new units dried up in 2007 and 2008, so did financing for new construction, and it could be several more months before building gets back on track.
"It's really going to be 2012 or 2013 before anybody's delivering product again," Valone said.
Moving in a Different Direction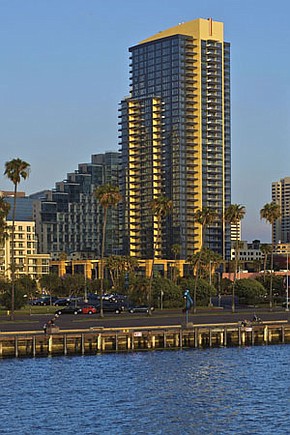 Also, he noted that some already-built downtown developments — such as Vantage Pointe, The Legend, Park Terrace and Aloft at Cortez Hill — have reduced the overall new condo supply during the past year by converting a portion of their for-sale inventory to leased units.
These factors and others have reversed the direction of downtown residential sales trends, though experts said the rebound has impacted various parts of downtown in different ways.
"There are really two micro-markets for downtown condos," said Mark Mills, a real estate agent with RE/MAX LLC who specializes in downtown residential resale properties. He noted that some pockets of downtown are holding up better than others in the current economy.
The higher-end resale condos, priced at $750,000 and above, did not see the same impact, in terms of downturned sales and foreclosures, as those geared to entry-level buyers during the recession. Mills said waterfront properties, which tend to be priced on the higher side, have also been faring better in resales than those without water views.
At Breeza, a downtown condo development off Pacific Highway, operators said sales are up dramatically, owing to a combination of lower pricing and rising demand among empty-nester retirees and young professionals looking to reside closer to their downtown jobs.
Buyers, Sellers Get More Realistic
"It's a totally different market than a year ago," said Mike Chious, general sales manager for Breeza's builder, Intergulf Development Group. "I think buyers and sellers are just more realistic about what the pricing should be."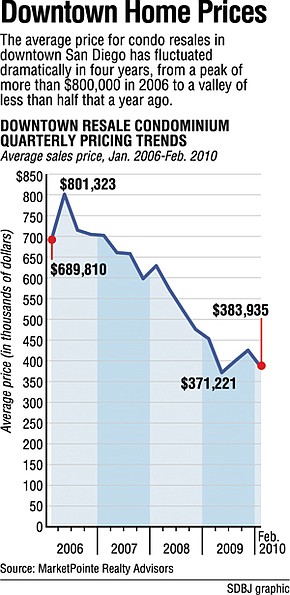 Breeza sold 17 units during the first quarter, after selling "three or four" in the same period of 2009, Chious said. Sales have been across all price points, with units ranging from the high $200,000s to $1 million.
At Bosa Development Corp. in Vancouver, sales director Dennis Serraglio said traffic is up sharply from a year ago at the sales office of the developer's Bayside condo development on Pacific Highway, where there were about 40 sales in the last quarter of 2009 and 52 in the first quarter of 2010. According to MarketPointe data, 40 of this year's Bayside transactions had been finalized and recorded with the county as of March 31.
The developer also built downtown's sold-out Electra, which still has three units currently being leased, and The Legend, which has four units under lease.
"As those leases run out, we'll be putting those units back on the market for sale," Serraglio said.
Chious noted that a sizable portion of buyers in the early months of 2010 have been scurrying to get deals finalized before the pending expiration of government homebuyer tax credits.
First-Time Buyers Welcome
Condo sales are also being fueled by rising consumer confidence, and lenders' moves to relax some of their tight financing restrictions imposed a year ago, said Sherman D. Harmer Jr., chairman of the Downtown Residential Marketing and Builders Alliance and president of Urban Housing Partners Inc.
For instance, instead of requiring a condo development to be 70 percent presold before it finances a new condo loan, Fannie Mae now has a 50 percent requirement, and the FHA's requirement is now 30 percent. First-time buyers who otherwise qualify can now get a condo with a down payment as low as 3 percent under FHA, aka Federal Housing Administration, guidelines, instead of 25 percent for most programs, he added.
With overall condo supply tightening and no significant new building on tap for at least three years, Harmer said downtown's "shadow market," about 200 units being leased out by their owners but not marketed, will dwindle as those homes get sold.
In the current economy, however, downtown homeowners are still facing issues paying off loans.
According to figures from La Jolla-based DataQuick Information Systems, tracking downtown's 92101 ZIP code, 75 condo units were foreclosed on in the first quarter of 2010, up from 41 in the same period of 2009.
Condo foreclosures in that ZIP code have generally been declining since hitting 117 in 2009's second quarter. But, as with other types of housing, distress is helping to boost sales by lowering condo prices.
MarketPointe reports that the downtown's new-home average sale price was about $717,500 in the fourth quarter of 2008. That fell to about $493,000 in the fourth quarter of 2009, before rebounding to approximately $572,500 at the end of February.
The average price for condo resales was about $475,000 at the end of 2008, falling to approximately $424,500 at the end of 2009 and about $384,000 at the end of February.