FINANCE: LENDING WAS SUSPENDED FOR SIX MONTHS, ACCORDING TO ORGANIZATION
Small-Biz Loan Program Starts Up Again
Monday, March 22, 2010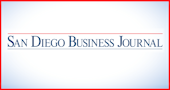 San Diego — A small-business loan guarantee program operated by the state resumed lending last month after it was suspended for about six months because the state Legislature used the funding to help close California's deficit, according to the organization.
"We've resumed lending as of Feb. 3, but we've had to reduce the size of our loans, and the size of the guarantee," said Michael McCraw, president of California Southern Small Business Development Corp., based in San Diego and one of 11 nonprofit financial development corporations set up by the state aimed at helping fledgling small businesses.
The nonprofit development corporations provide loan guarantees of up to 90 percent on small-business loans made by lenders. The loans are usually to borrowers who would be unable to qualify for traditional loans because of various reasons, including blemished credit histories or a long track record.
The state program is similar to the U.S. Small Business Administration lending program, which provides guarantees (now up to 90 percent) on the loans made by banks, and other organizations.
California Southern SBDC and 10 other statewide development corporations were prevented from making any new guarantees for six months while the loan program was put on suspension, preventing most borrowers from obtaining the funds they needed, the organization said.
McCraw said for the fiscal year that ended in June, California Southern SBDC made 171 loan guarantees, the best in its history, for about $10.2 million.
That changed after the program was suspended, and the state program's trust fund was reduced by about $8 million as state lawmakers attempted to reduce a massive deficit, estimated then at more than $45 billion, California Southern said.
Renewing Some Guarantees
McCraw said his nonprofit was renewing some guarantees for lines of credit, but was mainly confined to managing the portfolio.
In the past month, the organization's activity has been picking up, he said.
"This week we've done about 12 guarantees," McCraw said March 12.
Last year, the average loan size on the guaranteed loans was about $100,000. However, recently, the bulk of the guarantees have been going to micro-loans that range from $3,000 to $35,000, McCraw said.
The guarantees are now covering up to 50 percent, except for some larger loans where the guarantee is up to 70 percent, McCraw said.
Most of the micro-loans are made by community banks, or by micro-loan nonprofit organizations such as CDC Small Business Finance, based in San Diego, or ACCION International, an international organization with a local office.
Kurt Chilcott, president of CDC Small Business Finance, said that the credit crunch has made it difficult for even business borrowers with decent credit histories.
Without the guarantees such as those provided by the state and the U.S. Small Business Administration, there will be even less lending into the small-business market, he said.
CDC gets its direct funding from the SBA, and from a pool of funds provided by local banks.
An SBA-funded micro-loan program provides up to $35,000 to qualified borrowers. The average loans of a program called the Bankers CDC, funded from a group of local banks, range from $75,000 to $100,000, with the maximum being $200,000, he said.
Creating Jobs
Despite the sometimes less than sterling credit scores of some borrowers getting state guarantees from California Southern Small Business Development, the program has been successful in creating more jobs, and default rates were below 1 percent up until 2008, McCraw said.
For the last two years, defaults rose to about 3 percent.
Among the most recent businesses that qualified for the guarantees were several types of small contractors, including drywall contractors, landscapers, restaurants and an events planner, he said.
The state's suspension of the loan program also caused a reduction in staffing at the organization's downtown office, from seven full-time staffers to four who are all on a part-time basis, he said.
The state Legislature's action disappointed McCraw, who has been in his position for about 20 years, mainly because he enjoys helping businesses access the capital they need, he said.
"We like what we do here, and we're trying what we can to help turn the economy around," he said. "People want the opportunity to work, and we help to give them that opportunity."