FINANCE: VETERAN INVESTMENT ADVISERS LAUNCH NEW VENTURE
Putting Investors First
Monday, March 22, 2010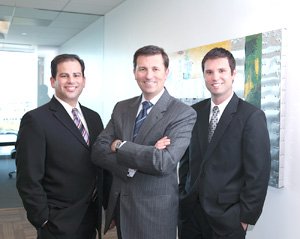 San Diego — In the wake of a global recession that has shaken the public's faith in financial institutions, Delphi Private Advisors has adopted a business model that calls for bringing more transparency and trust to the investment process.
Launched in November, the San Diego company is an independent registered investment adviser offering investment management services to high-net-worth individuals and families, as well as nonprofits and private foundations. The company specializes in investment strategy and management, active tax management, and working in partnership with other client advisers on wealth transfer and charitable giving.
Before the firm's launch, the three founding partners were vice presidents at Bernstein Global Wealth Management. They are Keith McKenzie, Marc Channick and Darren Reinig. Delphi's near-term goal is to manage approximately $300 million in assets for clients across the U.S., with a primary focus in Southern California.
There are two full-time employees along with the three partners at Delphi, which plans to add two or three workers this year.
McKenzie noted that the company's target client base is people who have accumulated between $2 million and $20 million in liquid assets. The investment minimum is $1 million.
"A lot of them have made it," he said. "We want to keep them from losing it."
Emphasis on Fiduciary Responsibility
Delphi joins a community of existing registered investment advisers in the region. McKenzie said their transparency is part of a trend "away from brokerage models."

Skepticism about the way investments are managed recently triggered a drive in Congress to require stockbrokers to act in the best interest of their clients. Large brokerages have lobbied against reform because they like the system the way it is, Reinig said. Current practices often "are stacked against the individual investor," he added.
The Investment Advisers Act of 1940 exempts brokers from registering as advisers as long as the advice they give clients is incidental to selling products. Investment advisers, who make a living giving advice rather than selling products, must maintain a high fiduciary standard.
Critics say it is getting harder to know whose interests are being represented as brokers behave more like financial advisers. The difference is that brokers often are focused on the products they represent, rather than the client, said McKenzie.
"When you buy a car, you know the guy there is going to sell you whatever he has on the lot," he said. "It's the same in the brokerage world."
Under recently proposed federal legislation, anyone selling financial advice would have to act as a fiduciary and place investor interests ahead of their own. Currently, financial intermediaries, whose main job is to sell products or investments, don't have that responsibility. They must follow a standard of "suitability." The investments they sell must be considered suitable to buyers.
Shifting Away From Wall Street
"It's a very low standard," said Channick. "… We think we are at the forefront of what will be a sea change. You are seeing an enormous shift of assets away from the big Wall Street institutions."
The three partners at Delphi said they decided to form their own company because they came to believe that an independent advisory firm was the only model that would allow them to align their interests completely with those of their clients. As independents, they can act as true fiduciaries. They won't be bound by any one institution's point of view or investment service. Their goal is to provide advice that is free from conflicts.
Ed Friedman, director of global cities forecasting for Moody's Economy.com, said a typical retail broker must "serve two masters."
"He wants to make money for his client but he also has the obligation to keep his job, which means selling the product his brokerage is producing," Friedman said.
The founding partners of Delphi have a broad range of experience.
Channick has 15 years of client-based experience. A 1994 graduate of Harvard Law School, he practiced law for a decade in the private and public sectors before moving into the investment field as an adviser to individuals and families with large assets. He received his undergraduate degree in economics and political science from Brown University.
McKenzie specializes in providing customized investment solutions. He holds degrees in engineering physics from Miami University and mechanical engineering from Case Western Reserve University.
Reinig specializes in helping business owners, executives and wealthy families create and execute investment management and wealth transfer strategies. He holds a degree in cognitive science from UC San Diego and an M.B.A. from Columbia University.
The launch of Delphi is supported by Focus Financial Partners, an international partnership of independent, fiduciary wealth management firms with more than $32 billion in assets and 600 employees.
Emmet Pierce is a freelance writer for the Business Journal.